Off-White Fall 2017 - Runway Review
March

3

,

2017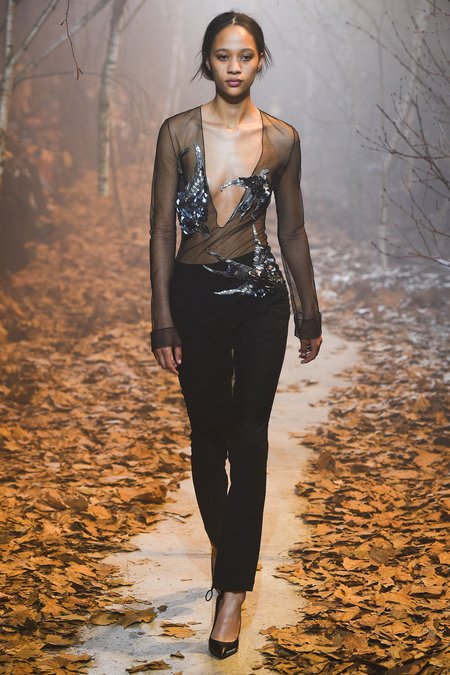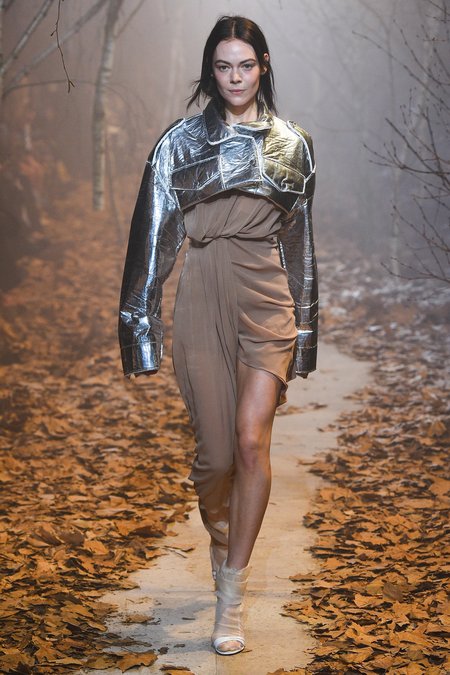 The clue was in the invitation for Virgil Abloh's recent Off-White men's Fall 2017 show — a plastic envelope containing two leaves. The designer, who is also Kanye West's creative director, shook the tree a little harder when it came to the stage set at the Palais Tokyo. It was presented as an autumnal tableau complete with silver birch trees and giant orb lights like the winter sun. The floor came strewn as a winding path amidst a sweep of rustling dried leaves.
From rumors of joining Givenchy to that not-so-private tit-for-tat with Raf Simons, Abloh's name has certainly been in its fair share of the limelight. So, for fall, he named this collection "Nothing New," a nod to his state of mind and, to a larger extent, the industry as a whole.
As apparent with his invitation—an image of Marcel Duchamp's mustachioed Mona Lisa reproduction superimposed with his signature from his famous urinal (incidentally, celebrating its centenary this year)—Abloh concluded that new is rarely, truly new, be it in art or fashion.
A voiceover introduced the show, courtesy British artist David Shrigley, who was recorded saying, "Focus on the work; if you make good work, you will probably be a successful artist." The dark and theatrical setting proved the perfect stomping ground to showcase the collection's footwear, and ploughing through those leaves came suitably rugged black sneaker-work boot hybrids with contrasting white laces and the label's logo stamped in white — at times obscured beneath the voluminous trailing hems of wide legged pants.
The leitmotif leaves also appeared within the collection itself, in more permanent and infinitely more blingy, form. They came cast in gold leaf, as delicate brooches adorning the coats and sweaters.
Noticeably absent were the graphic T-shirts upon which Off-White was built. Their replacements—delicate, logo-free lace tees and striped furs—were a clever and elevated response to those who continue to label him street. Meanwhile, the tailoring of the houndstooth suiting showed finesse. What seemed like random flocking on a grouping mid-lineup traced back to a brushstroke print by the artist Pablo Tomek that also appeared in his Pre-Fall collection.