Balenciaga Fall 2017 - Runway Review
March

6

,

2017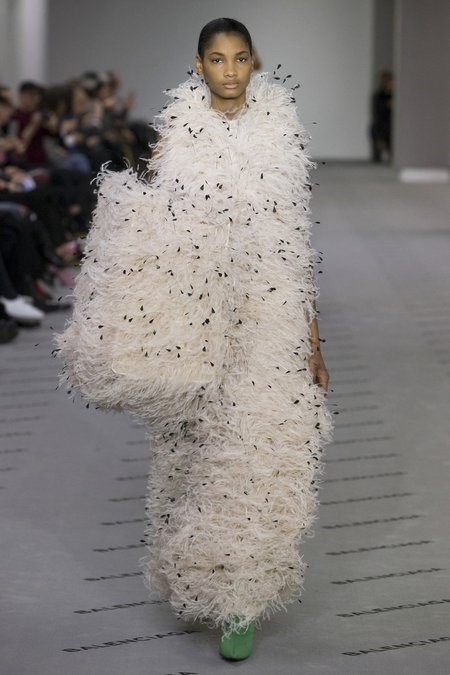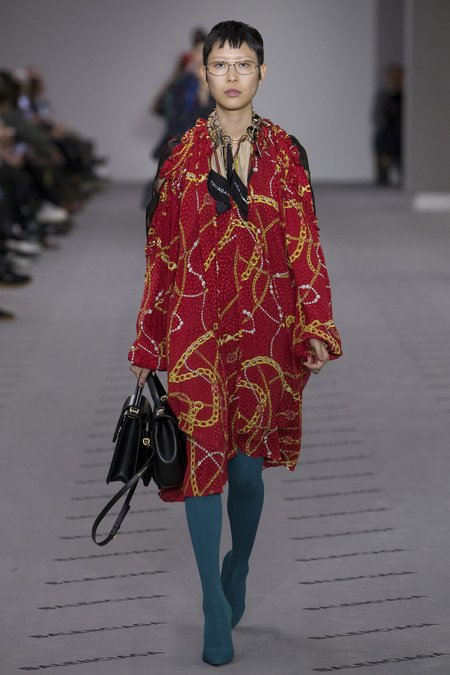 In January, Balenciaga turned heads when Demna Gvasalia debuted a normcore-chic men's collection inspired by Bernie Sanders. Pieces like windbreakers, puffer blankets, hoodies and polos were emblazoned with the Vermont senator's presidential campaign logo, but embroidered with the brand's name instead.
Gvasalia reprised the homage to the senator in his Fall 2017 women's collection—a subtler iteration compared to the men's fare, but a tribute nonetheless.
To celebrate the brand's centennial, Gvasalia looked back at Cristóbal Balenciaga's photos from his early couture collections, drawing inspiration from not only the silhouettes, but also the ways models would lounge in fittings, pieces of fabric thrown haphazardly over their shoulders.
New meaning was given to the term swing coat for fall. The plackets were askew, pieces of fabric thrown over models' shoulders to evoke the spirit of a work in progress. Wrap skirts that appeared in the middle of the show were inspired by auto interiors.
A few pairs of unconventional pumps featured the Balenciaga-ized Sanders logo on the side. The heel was called a "knife" by the house, made so sharp it seemed like it could cut the logo'ed carpet models strutted on. Some of the shoes were softened with T-shirts wrapped around them.
Giant shoppers continued to rule the runway, with the brand also introducing large duffel styles inspired by tire covers. On the flip side were a series of car-mirror clutches for those really packing light.