Bottega Veneta Fall 2017 - Runway Review
February

27

,

2017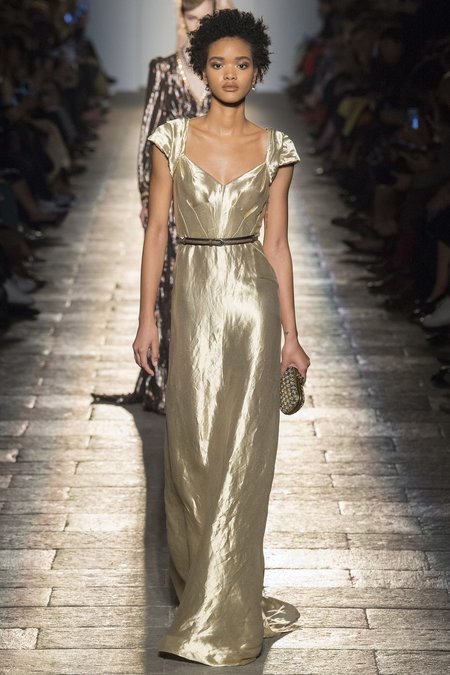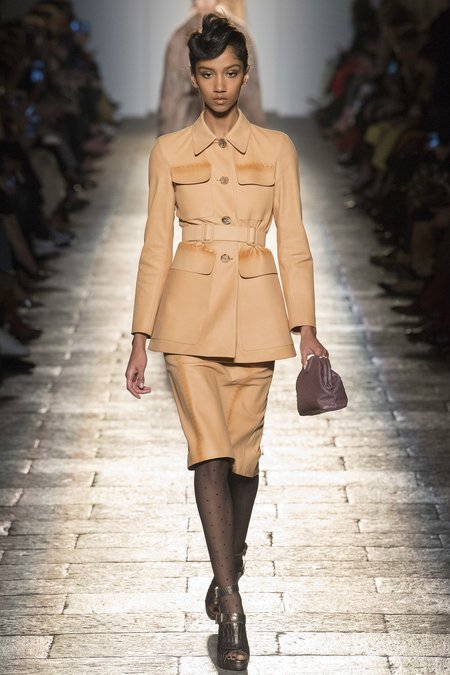 Decidedly more evening than in seasons past, Bottega Veneta's look for fall exuded a strong 1940s glamour befit for any Hollywood diva. From look one, the female silhouette was on full display: broad shoulders, rounded hips and tailored at the waist with long continuous lines.
Riding trousers were the staple for daywear, worn with tucked-sweaters and knee-high boots. Modern touches included multi-directional pleats on the daytime dresses — in gorgeous shades of ochre and tangerine — and a disciplined deployment of sequins and elegant studs. Big furry coats were from goats, a purposefully sustainable choice.
Never fussy, the accessories nevertheless played a pivotal role in completing Tomas Maier's vision: sheer black hose with polka dots, suede and nappa wedge footwear and crystal combs sweeping the hair into place.
A quartet of puff-sleeved, high-waisted midi dresses in dusty blue, yellow and pink worn with sheer black stockings was lovely. Sweeping metallic-thread evening dresses, including a gunmetal column under a magnificent black cape, brought the cohesive collection home, creating a liquid effect.
While the collection definitely had a strong undercurrent of formality, there were plenty of daywear pieces. Double-faced cashmere blanket capes and double-breasted coats stood out, complemented by jumpsuits and even a Matrix-like black dominatrix leather tailored skirt suit.