Bottega Veneta Spring 2017 - Runway Review
September

24

,

2016
It's a big year for Bottega Veneta, the 50th anniversary of the anti-flash luxury brand with the slogan "When your own initials are enough," the 15th with creative director Tomas Maier at the helm and the first time he's shown women's and men's wear together.
For the show, the soft-spoken Maier, who isn't big on observing anniversaries, chose the fine arts academy Accademia di Brera, with its soaring archways reminiscent of clean Spanish Colonial architecture to say thank you to his team. The passion for "private luxury" was evident in the manifestation of the collection from start to finish: soft suiting, glossy leather shirt dresses and coats and lace knits that flattered every curve on Guinevere Van Seenus, Karen Elson, Eva Herzigová, Adriana Lima and others in the diverse cast, which could have come straight off a Hollywood movie set (with Lauren Hutton playing the femme fatale in a trench coat, natch). The majority of the clothes were targeted at real women of varying ages—all with with real bodies. The multigenerational showing was brilliant.
As for those clothes, their silhouettes spoke softly. Snug on top positioned over some volume, be it pleated cropped pants or a full skirt, they were all workable—and walkable. Despite showing a spring collection, the color palette tended toward classic fall: a wine ostrich coat and cotton ribbed sweater over navy drill pants, but, for impact, a trio of vibrant leathers — dresses in shocking pink and yellow, and geranium skirt. Maier offered airier options in dusty white separates — crepe de chine shirt tucked into gabardine kilt; cozy cardigan over viscose dress.
Adding to the cinematic vibe, Maier recreated 15 bags from the house archives, including the intrecciato clutch carried by Lauren Hutton in the 1980 film, American Gigolo.
The whole collection felt like it was designed from the heart—effortless and real. For his runway bow, Maier brought his entire design team onto the runway with him, the teacher and his students.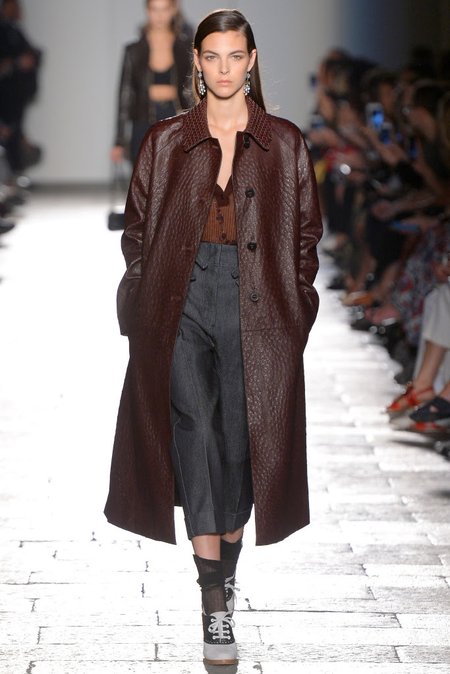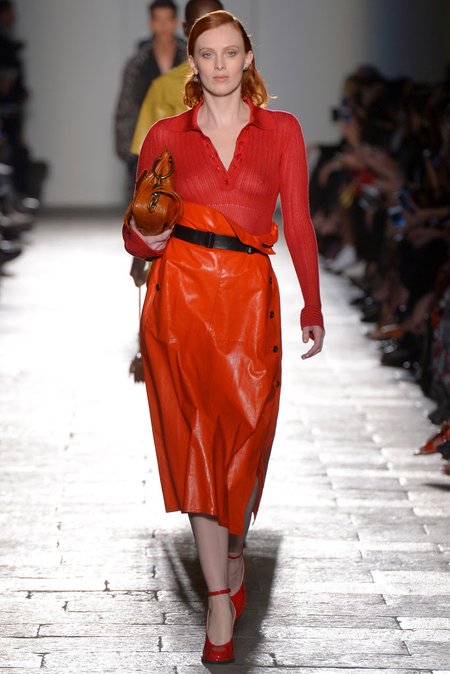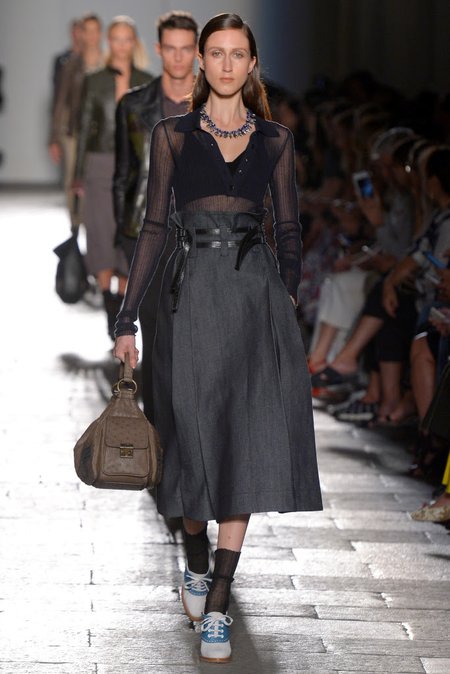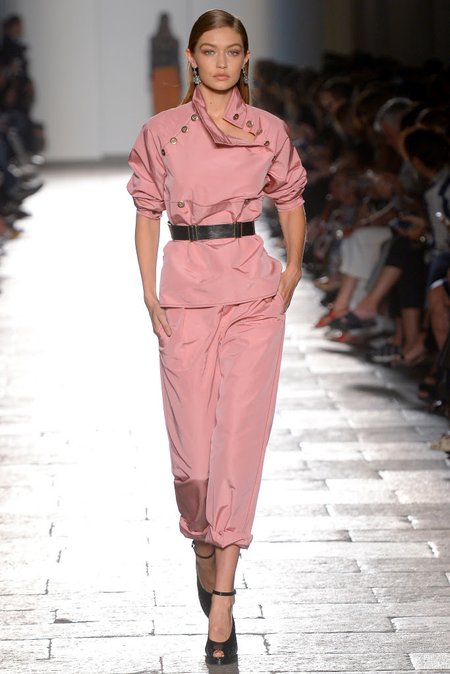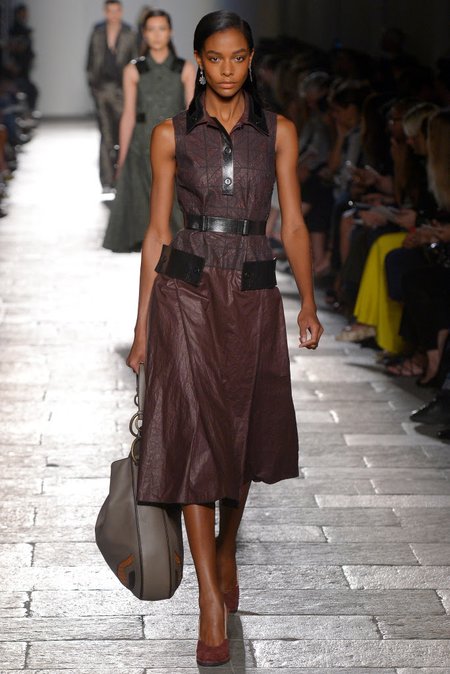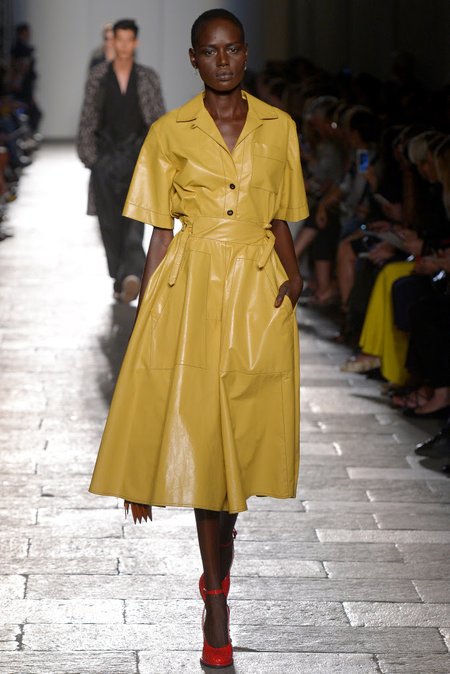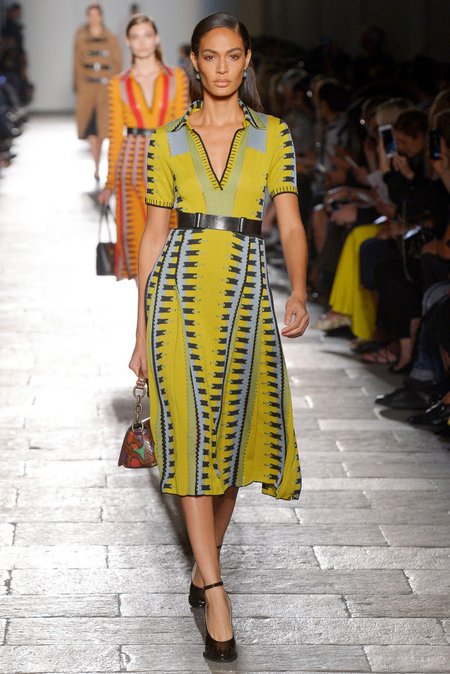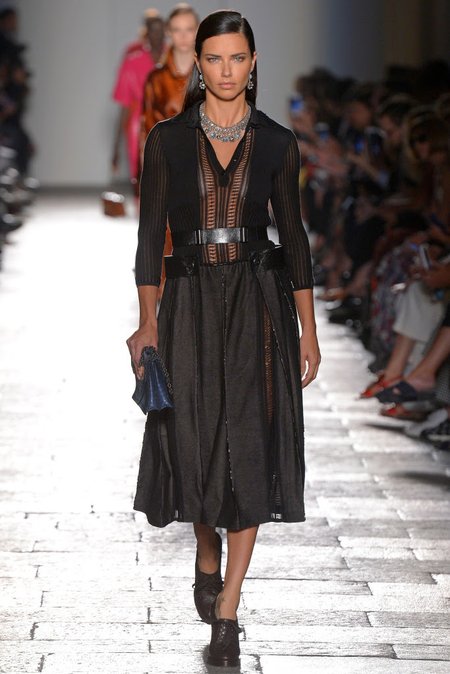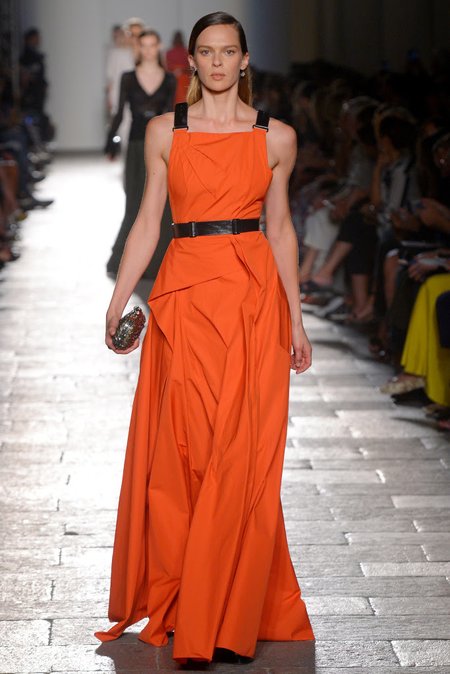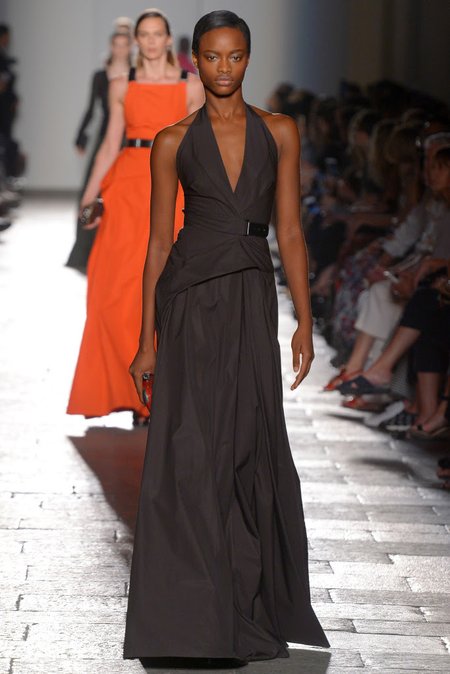 Bottega Veneta Spring 2017 - Accessories
Bottega Veneta Spring 2017 - Details