Calvin Klein Spring 2018 - Runway Review
September

7

,

2017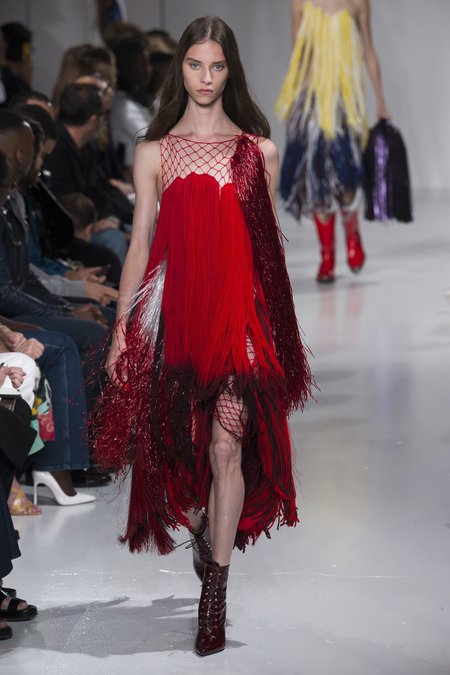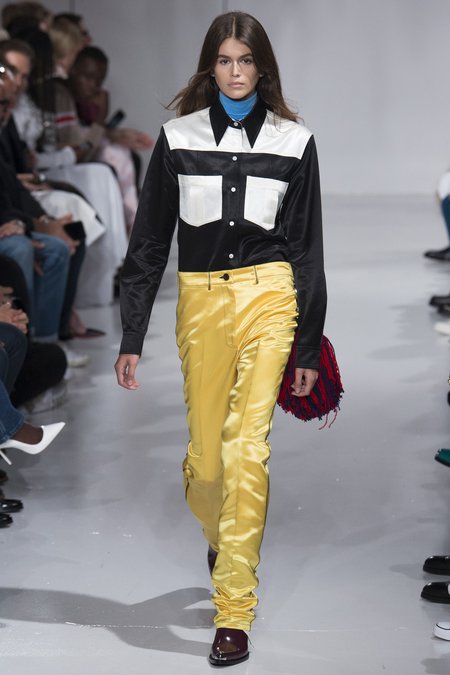 With a runway ceiling hanging with gleaming metal buckets installed by artist Sterling Ruby (foreshadowing, you say?), Raf Simons ushered in his spring collection for Calvin Klein—entitled "Sophomore"—with an air of eeriness and experimentation. His Hitchcock blondes wore filmy nightgowns that evoked Sissy Spacek in "Carrie"—just a further troupe in the Belgian designer's fascination with all facets of Americana.
"American horror, American dreams," Simons elaborated.
Last season's cowboy boots and denim was succeeded by—and layered upon with—plenty of pop art nods. Simons and his creative director and fellow Belgian, Pieter Mulier, channeled their mutual love of film and TV as avenues for risk-taking… provocation? Yes. Spring blockbusters? That remains to be seen at retail.
But for as dark as he channeled in mood, there was an equal, if not opposite reaction, in the lightness of the garments. Aforementioned nightgown silhouettes were fashioned in waterproof nylon used for tents. Sure, the nod to the classic high school wardrobe was a natural extension to his first collection. Not your typical American horror story—although who knows given what's happening at 1600 Pennsylvania Avenue.
Cindy Crawford's all-American daughter Kaia Gerber opened the show—and made her runway debut—in a sleek prairie outfit that looked plucked straight out of a Telluride movie set. A true teen spirit moment! But fashion, as idyllic as it paints its own picture, isn't always perfect. So Simons adorned garments with images of car crashes and scary newspaper pictures of people presumed dead. Dark Andy Warhol portraits of Sandra Brant and Dennis Hopper paid a somewhat vague tribute to the collection's muses. Colored leather skirts and coats were soiled, the fringing of a cheerleader's pompoms blackened and turned into bags.
"Basically, what I want to say, is that there was always beauty and there was always the opposite," said Simons. "I hope everybody sees this as two cannot exist without each other."