Chanel Fall 2017 - Runway Review
March

7

,

2017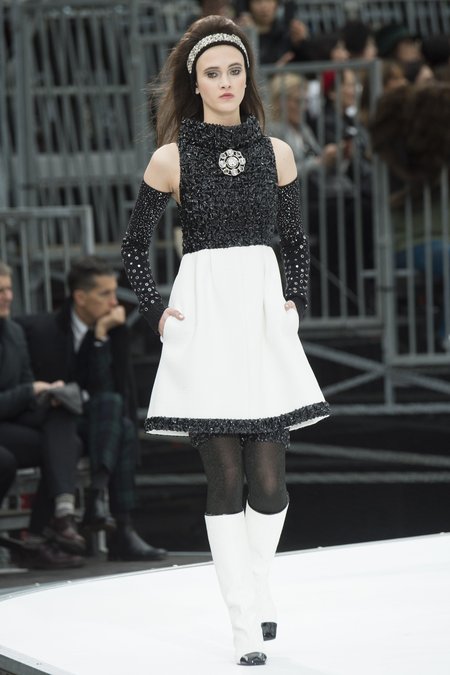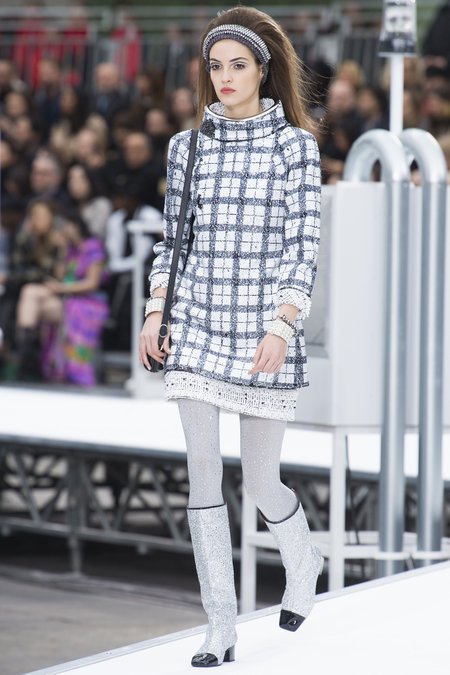 Ground control to Major Tom. Or is it Major Karl?
It was Paris fashion's Apollo No. 5 on the last day of Paris Fashion Week, who explored space-infused styles in a fresh-feeling collection that was undoubtedly the 83-year-old's best in seasons. The highlight of the show? That moment when Kaiser Karl pressed the "ignition" button that saw a gargantuan 115-foot tall Chanel "Space Agency" rocket take off inside the Grand Palais.
It was fitting, really, considering the coincidental timing of NASA's announcement on February 22 that there may be life-supporting planets out there.
But let's rewind to the beginning. There was an intergalactic thread that ran through the entire show: a round, raised-collar defined the chic aesthetic on skirt-suit styles — evoking a space-helmet neckline. While, sparkling silver and white boots merged the utilitarian astronaut-look with a chic Chanel signature — the square black toe.
Minimalist pure-white mini dresses also cleverly captured the futuristic feeling — with cosmic-embroidered clusters sparkling against black fabric — the vast fabric of space.
For evening, dresses consisted of black-and-white chiffon "space person" prints and garments embroidered in constellations of Chanel pearls accessorized with satellite bags.
But beyond the smart fashion details, Lagerfeld really had some fun. Guests starting snapping with their cameras as models, wrapped in huge reflective, heat-resistant shawl-blankets and shod in glittery lunar boots with co-respondent black tips, strutted around the giant, ceiling-high space shuttle installation that at one point pumped out smoke, grumbling noisily.