Chanel Fall 2018 - Runway Review
March

6

,

2018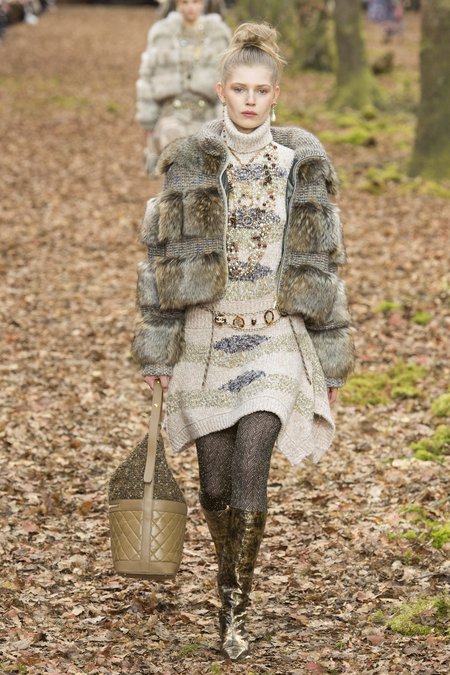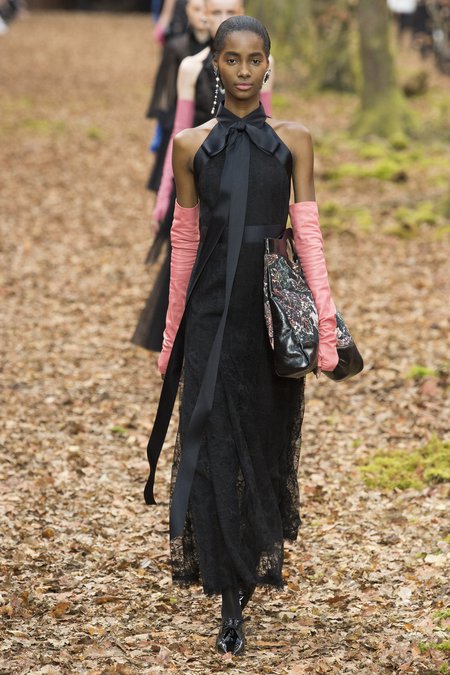 An autumnal palette in the clothes mirrored the oak leaves and green moss that covered the floor at the Grand Palais, all thanks to Karl Lagerfeld's Fall 2018 vision at Chanel. Models paraded through piles of leaves in an incredible total of 80 looks that varied from classic tweed to fur coats, black lace gowns and oversized scarves. The autumnal musings came dressed in shades of green, black, beige, grey and russet evoking the months of decay, contrasted with sections of sky blue. Statement scarves in vermilion and saffron added a touch of seasonal humor.
While the show opened with an array of predominantly neutral looks in shades of black and grey, bright hues of blue, orange and pink were woven in the collection in the form of fingerless opera-length gloves... a nod to Lagerfeld's signature accessory, perhaps?
Fuzzy leaf motifs -- beech, oak, sycamore, among others -- were used decoratively on oval or A-line coats that glimmered with metallic thread. Wide coppery pants boasted a sheen that evoked the morning dew. The house's historic roots were softly referenced in a series of fully covered gowns in rich fabric with high Edwardian collars, fastidious embellishments and myriad jewelry. The final 12 looks all featured black lace dresses; Kaia Gerber hit the runway in a black lace mini dress, pink leather gloves and mismatched earrings featuring the brand's double C logo. A fur cape in brown and grey with an imposing triangular silhouette evoked an aura of Russian imperialism.