Chanel Fall 2019 - Runway Review
March

5

,

2019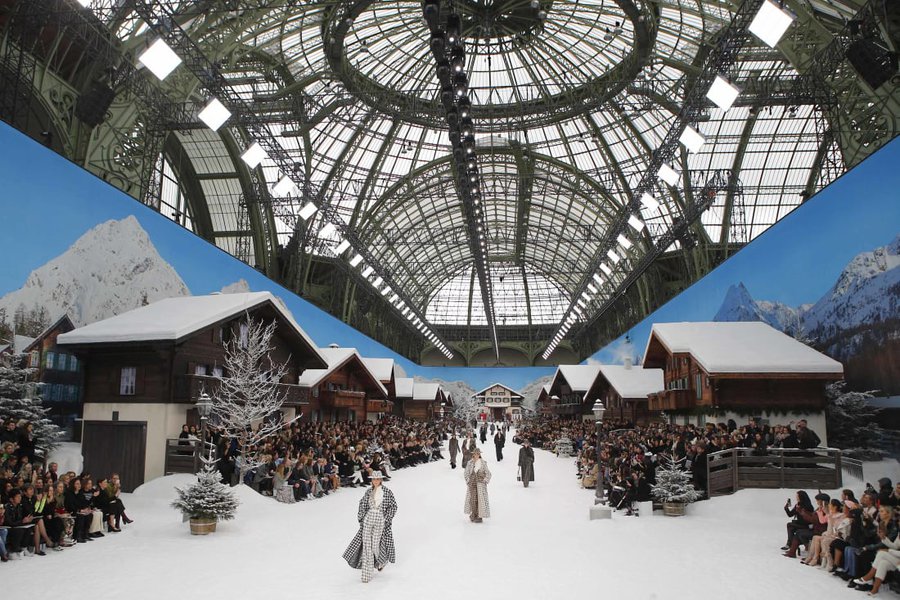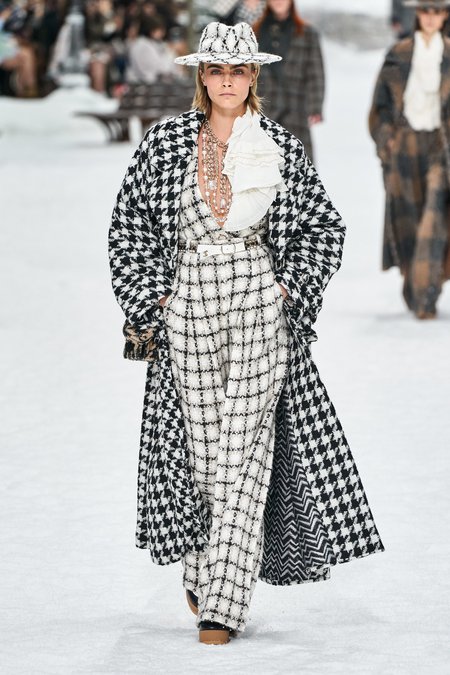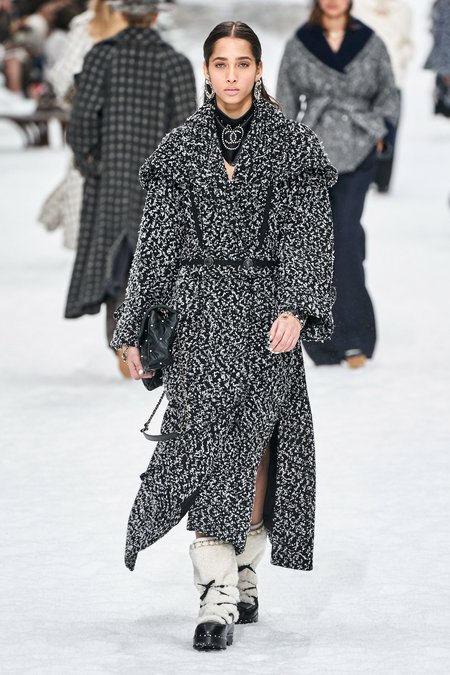 "The beat goes on..." 
So read under a sketch by the late Karl Lagerfeld of himself with the label's founder, Coco Chanel, placed at each guest's seat as part of the Chanel Fall 2019 show notes. It was a touching tribute to both iconic designers and an unspoken signal that the house of Chanel will march on. Much like his own antipathy for a large state funeral, Lagerfeld's final show wasn't going to double as a mass memorial. Guests arriving at the Grand Palais found themselves in a winter wonderland: tons of textured snow, evergreen trees, Chanel skis displayed about, a mountainous background and, of course, the requisite ski chalets. It all made for a peaceful, and scenic, sendoff for a man with no peers.
Perhaps a nod to Lagerfeld's German roots or to Mademoiselle Chanel's affinity for all things Swiss, the collection offered a solid combination of cheeky glamour and commercial viability that no doubt resonated with the many longtime Chanel clients who flew in for the momentous occasion. Following a moment of silence, a bell rang out and a soundtrack of Lagerfeld admitting he nearly passed up the Chanel post back in the 80s played as Cara Delevingne marched forward from Chalet Gardenia.
"When I was asked a second time, I accepted, because everyone told me don't do it, it won't work," came Lagerfeld's voice, in French. "It's the first time that a brand managed to become fashionable again, to turn itself into something desirable."
As to be expected, there was a lot to love in this Alpine-themed collection. An avalanche of Chanel shapes were on display: wide-legged trousers, short ankle boots protected beneath tweed fedoras, oversized woven coats, puffer jackets, voluminous furry miniskirts, a touching bright red sweater with interlocking C's on the chest and a whimsical Chanel chairlift print. Many of the looks maintained a head-to-toe monochromatic appeal -- several of the best pieces were intertwined with contrasting patterns or a thick wool braid. Like Lagerfeld's restrained final Fendi show, this was classic Chanel. 
At the end, following a surprise cameo by Chanel ambassador Penelope Cruz, Virginie Viard, Lagerfeld's protégé and newly-appointed creative director, did not take a bow in a strong and emotional signifier that this was Lagerfeld's final curtain -- even if he wasn't there. Many of the models shed tears as David Bowie's "Heroes" played for the finale walk... Lagerfeld's final runway in the sky.