Chanel Paris-Rome Métiers d'Art Pre-Fall 2016 - Runway Review
December

2

,

2015
To present "Paris in Rome," the new Chanel Métiers d'Art collection inspired by French actresses and Italian cinema, Karl Lagerfeld chose a legendary place where imaginary worlds and creative desires come together: the Cinecittà Studios in Rome.
Following a cocktail party on the film sets of ancient Rome, guests enjoyed the premiere of "Once and Forever," projected onto a giant screen in the Piscina, one of the most important film studios at Cinecittà.

Following the screening, the collection was shown in Teatro N°5 — Federico Fellini's favorite studio — which Lagerfeld transformed into a black and white ode to the Paris of yesteryear, reminiscent of the sets of the late French production designer Alexandre Trauner. Accompanied by the music of pianist Christophe Chassol, smoky-eyed models wearing two-tone mules or pearled sandals emerged one by one from a Paris Metro station.

Incorporating the tones of late autumn in Rome with the iconic colors of Chanel, beige, cream, grey, black and navy blue were added to a palette of brown, ochre, oranges and cappuccino. The iconic suit came in the form of a trompe-l'oeil dress and a three-piece version with jacket, straight skirt and cigarette trousers — all trimmed with film braid — while knee-length dresses and midi skirts were shown with small capes.

Fabrics, including tweed, mohair and curly wool; cashmere, leather, jersey, velvet, lace, silk crepe, chiffon and georgette, were accented with details like farfalle embroideries and pleated silk and feathers painted with motifs recalling Roman marble, for Parisian sophistication with a dash of Italian glamour. For evening, the silhouette was ultra-feminine, extraordinarily elegant and extremely delicate: lace négligées embroidered with tulle, sheath dresses in pleated velvet and nightgowns in crêpe georgette and guipure lace.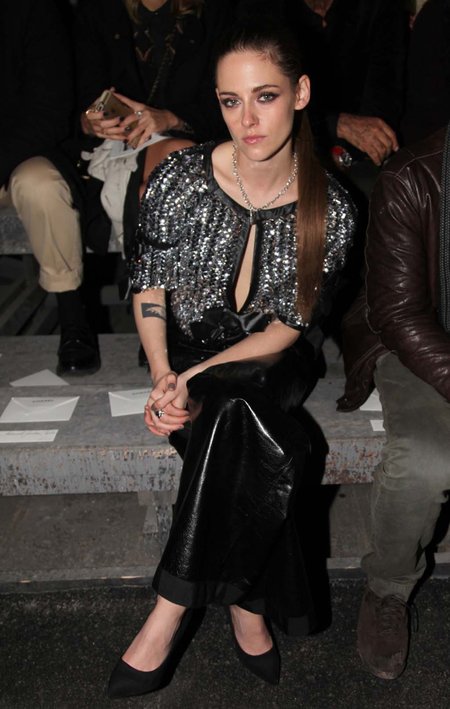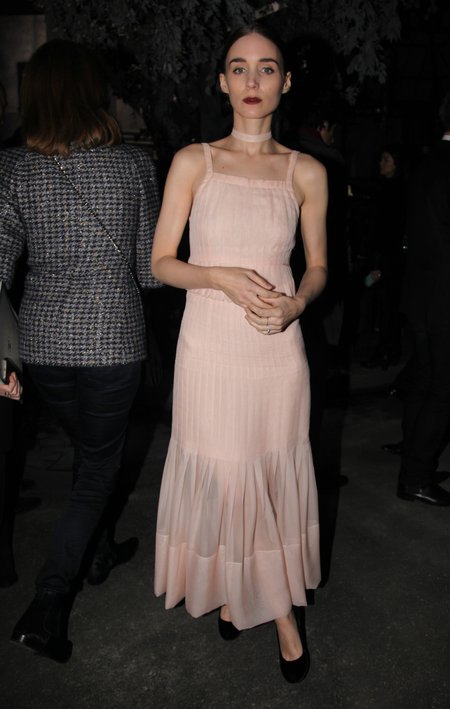 Kristen Stewart (actress and Chanel muse) and Rooney Mara (actress) attended the fashion house's Paris-Rome Métiers d'Art show in Rome, Italy.