Comme des Garçons Fall 2017 - Runway Review
March

6

,

2017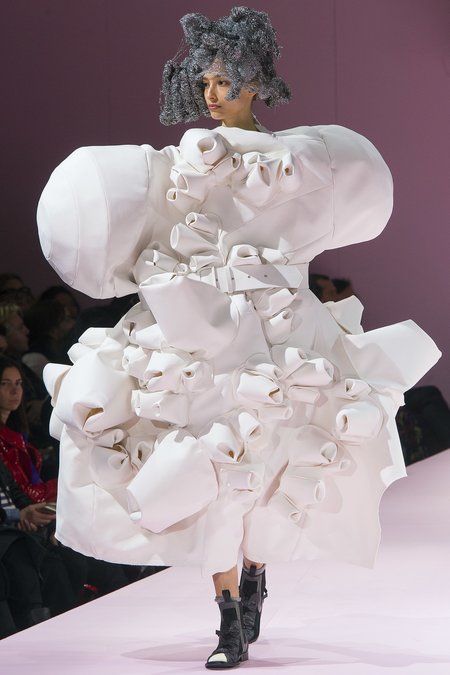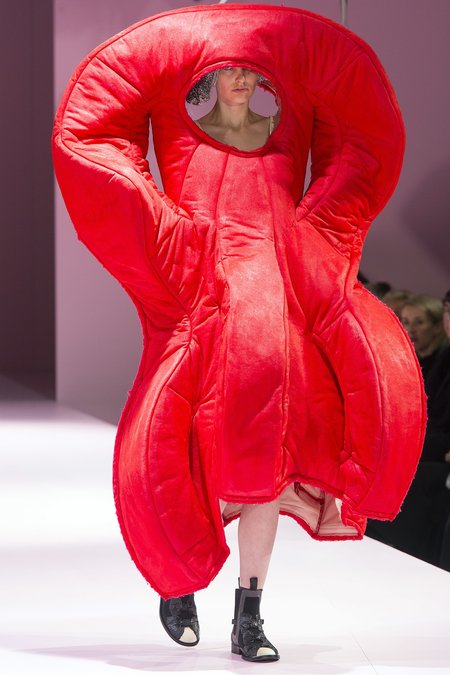 "The future of silhouette." A curt yet thought-provoking phrase uttered by Rei Kawakubo set the template for a fall collection that continued to challenge the idea that, with big ideas and even bigger shapes, fashion can exist on an unmatched equilibrium. And be guaranteed a sensory overload.
Against pink walls and on a pink runway sauntered out the models, the opening look a fuzzy white sculpted form with Picasso-esque curves at the bust and backside. Constructed of fabrics both humble and fancy, they mimicked the classic atelier dress forms. Kawakubo is to be the subject of the Metropolitan Museum of Art's Costume Institute exhibit this May—and it will be thought provoking to say the least.
Then came the gray spahes. There were swirled blobs that looked like they were crafted from the matted insulation used to line attics; a structured tent of a bulbous, crinkled and bunched dress that looked like a paper bag; silver Mylar blobs, and a red velvet "jumpsuit" that was molded to the body like a regal cast.
The paper bag aside, the looks came out as pairs, or groups of three. There was one particularly beautiful look akin to black couture lace, re-embroidered with minute jet beads. One can easily overthink at a Comme des Garçons show. Then again, few are big enough to challenge the audience to think and feel like Kawakubo does.