Dior Fall 2017 - Runway Review
March

5

,

2017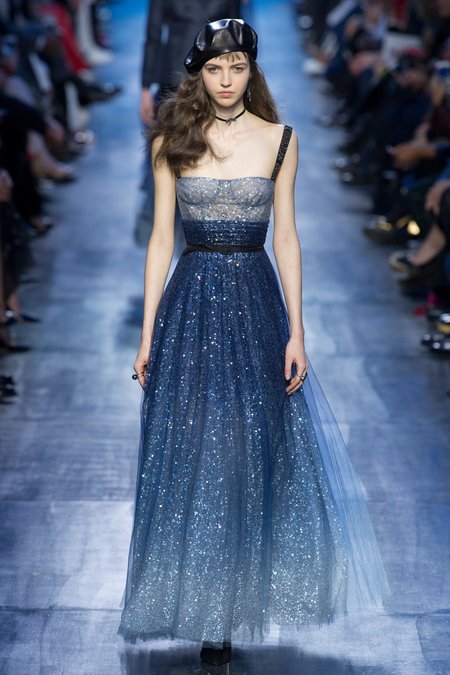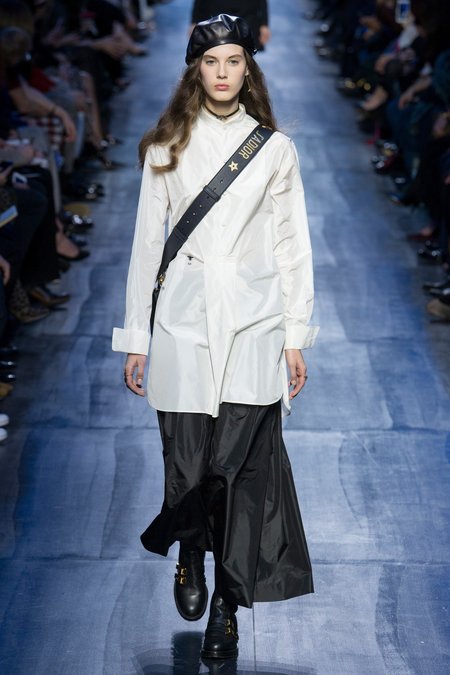 Christian Dior sang the blues to its star-studded front row at Paris Fashion Week on Friday, with Kate Moss, Rosamund Pike, Uma Thurman, Sienna Miller and a tardy Rihanna all turning out to witness Maria Grazia Chiuri's sophomore ready-to-wear show that celebrated all things navy.
"Among all the colors, navy blue is the only one which can ever compete with black, it has all the same qualities," Christian Dior wrote in The Little Dictionary of Fashion. With Chiuri on board, the Dior brand has begun skewing toward luxury sportswear; in keeping with this, Chiuri delved into the 1951 Dior archives to produce a very wearable collection that reinterpreted the famed Chevrier look in jackets, skirts, bombers and capes—with each of the 68 looks topped off with a black leather beret.
Ample hoods that defined the aesthetic were inspired by the "tunics of pastors" but resonated as both streetwise and sporty. Luxury velvet and taffeta, popular in Monsieur Dior's era, meanwhile were fashioned in funky sheens and modern cosmic embroideries. And slouchy denim, which interspersed the haute-fashion nostalgia, reinforced the contradiction of high-versus-low, washed-out workwear (blue, the program notes highlighted, was the color of royalty and the working man) as roomy carpenter jeans and bib overalls.
As much as Chiuri wants to connect with millennials, there was much nostalgia to the retro gowns, which often were ankle-length, gathered at the waist and topped with the classic, militaristic post-war beret rendered in leather. A severe, geometric shawl in navy-black — the piece de resistance — looked like a contemporary reworking of a 1940's glamour puss stole.