Dior Fall 2019 - Runway Review
February

27

,

2019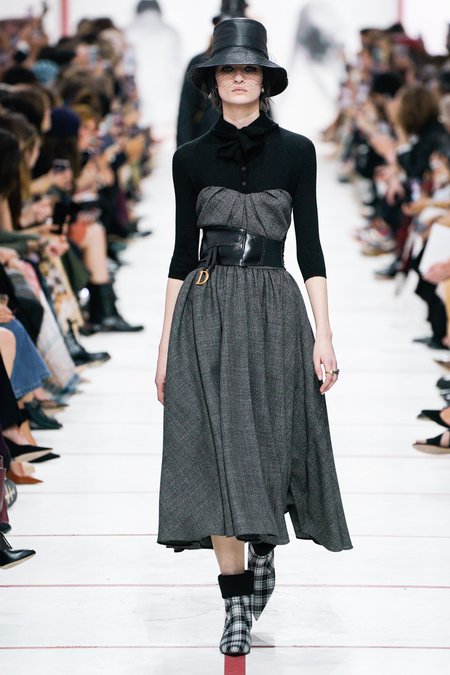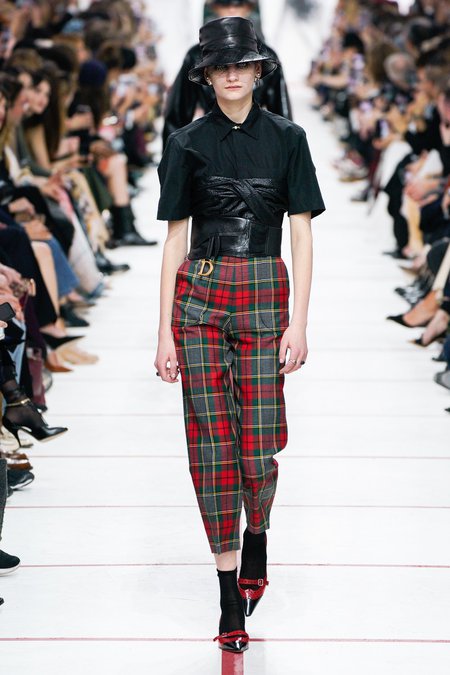 As with her past shows, Maria Grazia Chiuri set the tone for her Dior show via the expansive set erected at the Musee Rodin. Italian artist Tomaso Binga designed the show set, which was covered in large A to Z alphabet letters made from nude bodies, spelling out words like "feminists" based on her work Alfabeto from 1970. The feminist voice that rang through the halls once again celebrated sisterhood, this time subjugated by the independent (read: rebellious) youth subculture styles of the 1950s British "Teddy Girls."
As a response to the austere "New Look" that permeated high society following World War II, the Teddy Girls sought to usurp elegance with exuberance. That resulted in the monochrome gingham, full skirts, checks in red, green and blue and pointy loafers parked with cutoff bobby socks that came down the runway. In her show notes, Chiuri indicated she was inspired by "the queens of a ravaged landscape" who were "impertinent characters." If that meant deflecting the face via hybrid bucket-cum-bell hats, then so be it -- and for good reason.
"Sisterhood is global," Sisterhood is powerful" and "Sisterhood is forever" are the new mantras for fall, but their implications are far from being a one-season note. The messages of empowerment also rang through in the clothes: Edwardian coats with exaggerated lapels, pleated and buttoned-down full skirts and refreshing interpretations of the iconic bar jacket cut from taffeta and cotton accented with velvet lapels and worn with tailored trousers cropped to the shin. 
While not exactly glamorous -- and intentionally so -- the collection certainly had plenty of ready-to-wear appeal. Because while romanticism and red carpet wonders sell the aura and mystery behind a brand, sometimes a real woman, particularly one living in the #MeToo movement, simply wants fabulous and well-made knits and separates to wear. This new code did not turn its back on Dior's house codes; rather, it pushed forward -- elasticized leather corsets and all.