Dries Van Noten Fall 2019 - Runway Review
February

28

,

2019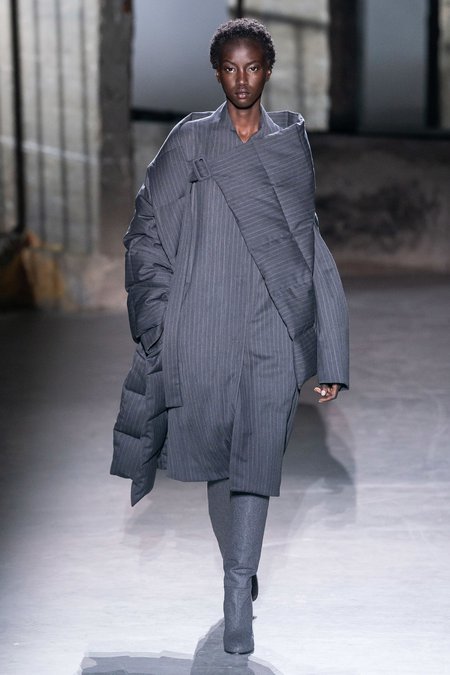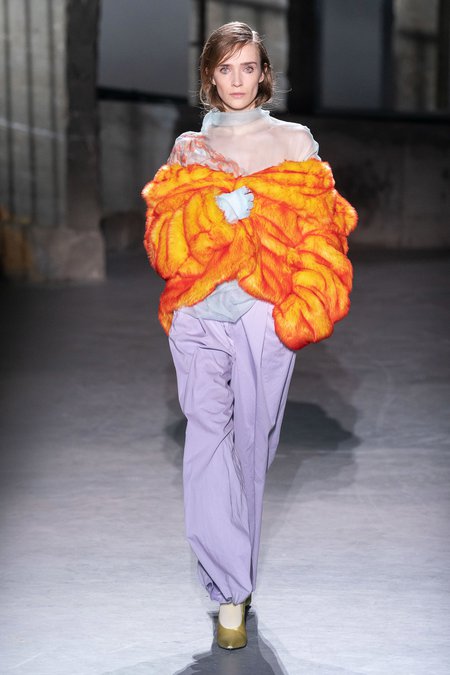 The incredibly talented botanist he is, Dries Van Noten turned to his lush garden roses, singling out the flowers that bore the most obvious flaws to transform into a singular statement print. The desire to seek out something "strange and interesting" -- leave Utopian perfection to others -- only adds to the designer's allure. His Fall 2019 show at the Palais de Tokyo was an ode to beauty in its most vulnerable state.
A somber gray pinstripe suit open the show. Immediately melancholy -- and purposefully so -- there was a feeling of helplessness that permeated throughout. A series of gray closet staples followed, complemented by said floral prints from Van Noten's garden. The dark florals were contrasted against sea foam green, pastel yellow and lavender fabrics and beautifully integrated color where needed. More vivid colors followed, including a Sunkist orange and royal purple, that were beautifully grounded alongside the sober pieces.
Analyze and pick apart what you will, one this is for sure: Van Noten rarely, if ever deviates from his design language; after all, women, season after season, turn to him for aspirational yet wearable pieces that accommodate every bit of their lives.