Ermenegildo Zegna: THE (RE)SET
March

23

,

2021
For 2021, Ermengildo Zegna presents a definition of new categories, mirroring the relentless evolving of times, characterized from day one the path of Artistic Director Alessandro Sartori within the Zegna world: a move away from utter formality, but not from a thoughtful sartorial approach, for another definition of style.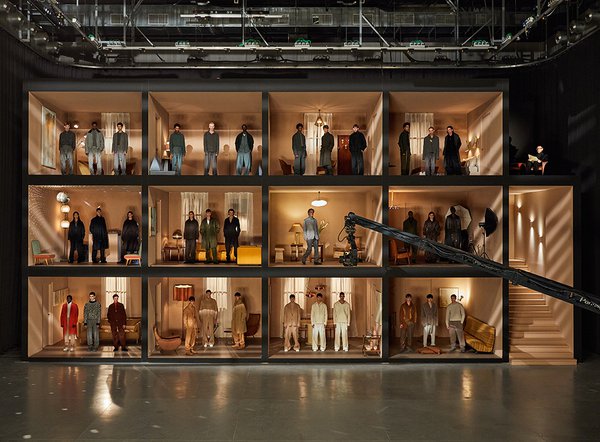 "We all are experiencing a new reality concerned with new needs, which lead us to previously unseen lifestyles and attitudes. It is precisely at a time like this, when everything is under discussion, that we, at Zegna, have decided to (Re)set. We have looked at our roots to (Re)interpret our style codes and (Re)tailor the modern man. Outdoor and indoor come together and a new way of dressing takes hold, where comfort and style blend to create a new aesthetic."
THE (RE)SET that is now being pushed activates a fluid movement that blends the public and the private, the personal space and the public space, and with that one's clothed persona, indoors and out, as lounging, living and working collide often in one single activity. In this seamless world that keeps taking shape, new style possibilities arise as Zegna (Re)tailors the modern man.
The collection follows a seamless pace. A new and varied generation of jersey fabrics take center stage at Zegna. Shapes are fluid, comfortable and adaptable. In sync with lifestyles that blend indoors and outdoors, the tropes of stay-at-home dressing - the shawl collars and belted generosity of a robe de chambre, the ease of track pants and the coziness of hand cut jersey slippers - reshape the very idea of formality. Archetypal items get new functions in a switch of forms, weights and materials. Chore coats in cashmere, wrapped as a robe, take up the role of habitual sport codes, hybrid suits are in double cashmere, unreleased groups of knitwear replace shirts, new sweaters made of felted cashmere and knit, or knitted out of leather, are meant as outerwear; trousers and jackets are cut in shearling. Even briefcases, the very epitome of business, are deconstructed.
Ermenegildo Zegna is a leading global luxury menswear brand founded in 1910 in Trivero, Italy, by the young entrepreneur Ermenegildo, whose pioneering vision continues to inspire the company business development in a sustainable way: to use resources for the good of others; to give back to people and to employees; to take care of the territory and communities from which the brand comes. The company is today managed by Ermenegildo Zegna as CEO, grandson of the founder and third generation of the Zegna family. Throughout the years the company has evolved from high quality textile production to the artisan commercialization of sartorial expertise and onto the affirmation of a luxury worldwide lifestyle brand with a retail network covering over 100 countries.