Giorgio Armani Fall 2017 - Runway Review
February

28

,

2017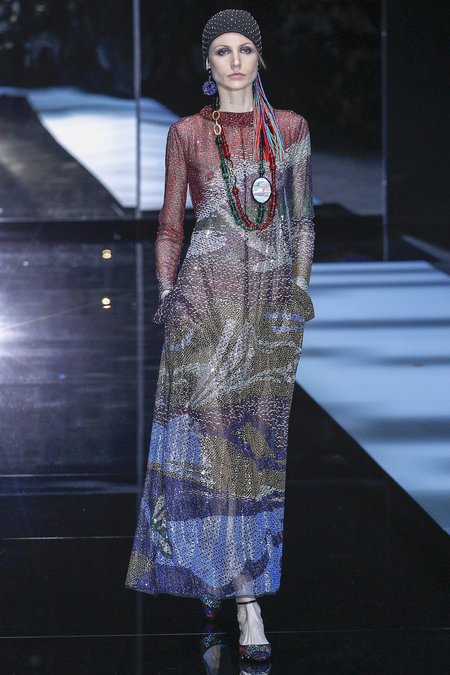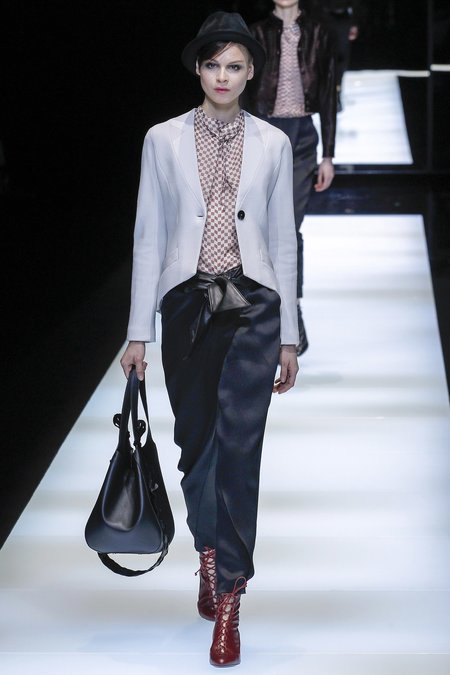 Irreverent isn't necessarily the first adjective that comes to mind when describing the designs of Giorgio Armani. Yet, for fall, the Italian maestro of red carpet glamour delivered just that — highlighting his love of trousers in an inventive collection that headlined his parade of ultra-elegant looks.
In describing fall as invoking "a new adaption of the Armani style: free, aware, subtly irreverent," Armani didn't so much as reinvent the wheel but, rather, propose a new way to merge his trousers with a skirt.
In a season where tailoring has explored by more than a few designers, Armani found ways to refresh his technique.
The results: a tulip trouser updated with a sweeping skirt in the shape of twin tulip petals that meld into the pant leg. With said skirt element mostly pleated, the combination looked particularly lovely when shown in contrasting colors. The color palate included a lot of red and black combos, segueing into colorful green and blues or red and purples.
The pants story continued into evening, completed with a red blouse with a standing ruffle that framed the face, a two-button blazer and bowler hat. Pleating details were repeated on three-dimensional bell cuffs and high Victorian-like necklines.
Another new silhouette was a bell-shaped top, worked over as a tunic over silky trousers or layered over a longer skirt for an evening dress. Velvet and furs created volumes and softness.
The final look was a glimmering, light-as-a-feater multi-color drop-waist gown worn with a crystal-studded head scarf and long beads for a refined hippy look.