Gucci Fall 2017 - Runway Review
February

22

,

2017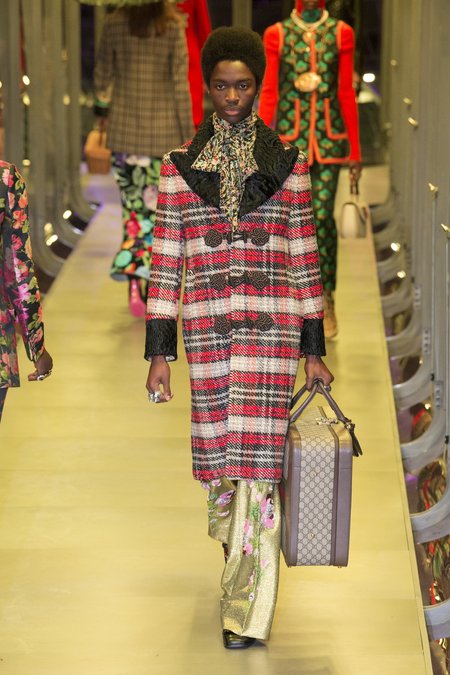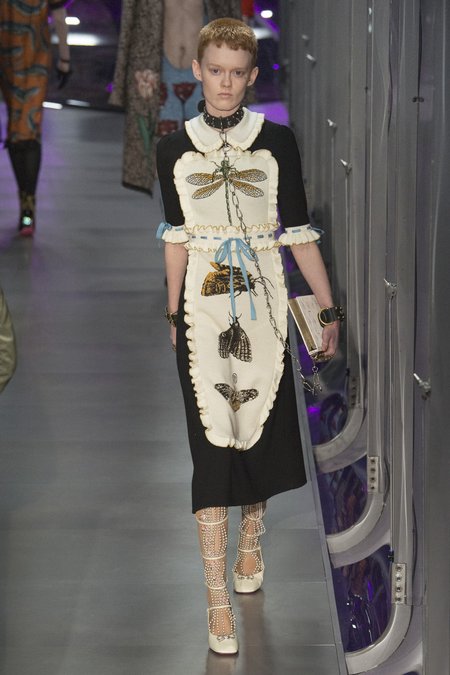 In his short two years heading the Gucci label, Alessandro Michele has emerged as an industry tour de force—a designer that commands as much respect, fame and celebrity as counterparts twice his age. His fall collection, a combination of men's and women's, was a brilliant showcase of his talent and ability to continuously deliver fresh and highly coveted ready-to-wear and accessories.
Sure, the pieces looked magpie mad. The vintage-esque feel that he has now established at Gucci felt like discovering a trunkful of fabrics, tapestries, jewels and tchotchkes from yesteryear. The collection of 120 looks was extreme to say the least, the parade of sheer blouses, floral suits and elaborate evening wear embellished from tip to toe.
Michele said his idea was to take concepts not readily associated with luxury and make them special. To illustrate that, he paraded his models in a Plexiglass-encased breezeway, a Y-shaped passageway that featured a pyramid at the center upon which a rooster weather vane was affixed. Forecasting which way the fashion winds blow, perhaps? 
There was a lot to love about this collection. It pulsated with a carnival-like rhythm, but it resonated. Michele collaborated with artist Coco Capitán on a handful of hand-scrawled pieces that expanded from the show invitations and packaging to simple garments with such phrases as "What will we do with all this future.''
At his most extravagant, Michele created a hooded robe so festooned with ruffles so as to put the Pope to shame. Helping ground the look in typical Michele fashion was devils-horn jewelry poking out of the nose and crystal-studded lightening-shaped sunglasses. Headgear ranged from aviator caps to Gucci-emblazoned headbands to enormously brimmed millinery and Victorian-era stroll umbrellas.
With Michele's ode to a multicultural lifestyle spanning from Tokyo to Hollywood to the Met Gala red carpet, he delivered a strong message that fashion can be the ultimate unifier. As if to bring that point home, multiple models wore crystal-studded masks that completely encased the head—and, in doing so, their sexuality.