Gucci Fall 2018 - Runway Review
February

21

,

2018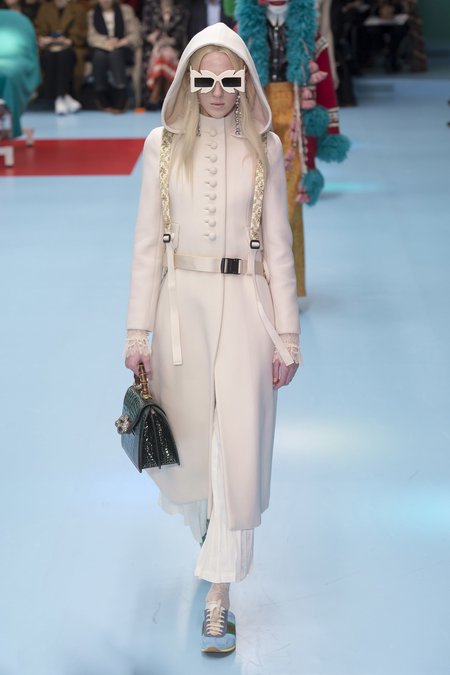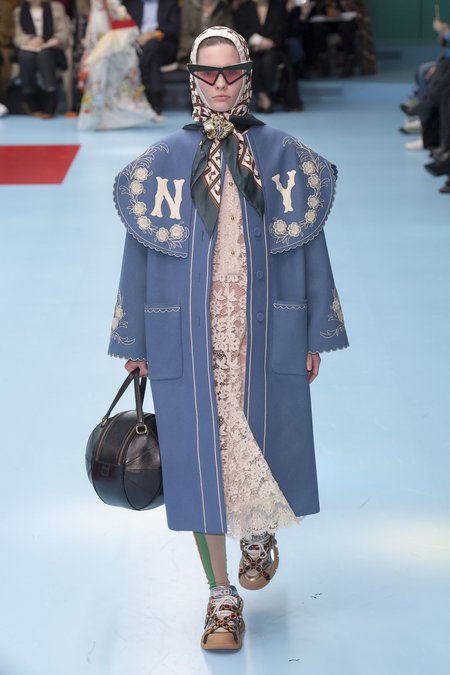 The sign at the door read "Claustrophobic Issues Warning." Because, really, it wouldn't be a Gucci show without a little pre-show hijinks. As has become a most fabulous norm, the Florentine fashion house kicked off Milan Fashion Week in typical eccentric style, with models carrying replicas of their own heads on a runway backdrop that can be best described as "creepy operating room." And those who didn't, carried faux baby dragons and sported a third eye. 
Under the bright neon lights in the Gucci Hub, over the steady, at at times unnerving, beeping of a heart monitoring machine, Alessandro Michele presented his "Cyborg Gucci" collection: a wild mix of cultures and symbols, from a pagoda hat to a balaclava, a restrained burgundy velvet dress to a gold lurex jacket, fine lace to the continued use of the Yankees logo. The transgressive vibe harked back to the show's inspiration, a 1984 essay, "A Cyborg Manifesto" by Donna Haraway. The essay is a critique of identity politics and the idea that people must fit within predefined cultural boundaries.
The show was, at its core, a love letter to all of Gucci's best markets across the globe. English tweed and Scottish plaid lived in harmony with '20s showgirl chain mail and '80s Italian vintage beige Italian businessman chic. And, of course, there was the glam power-woman ruched dress. Gucci logos were everywhere, as were branded displays of vibrancy via Sega, Major League Baseball, manga, Paramount and Russ Meyer. In short: Instagram fodder at its best.