Gucci Fall 2019 - Runway Review
February

20

,

2019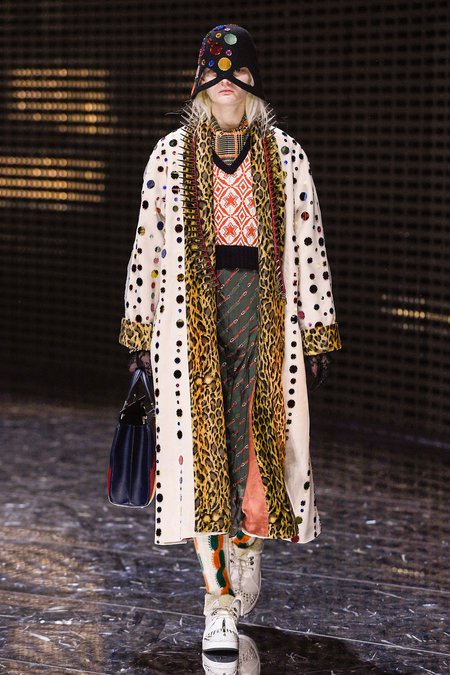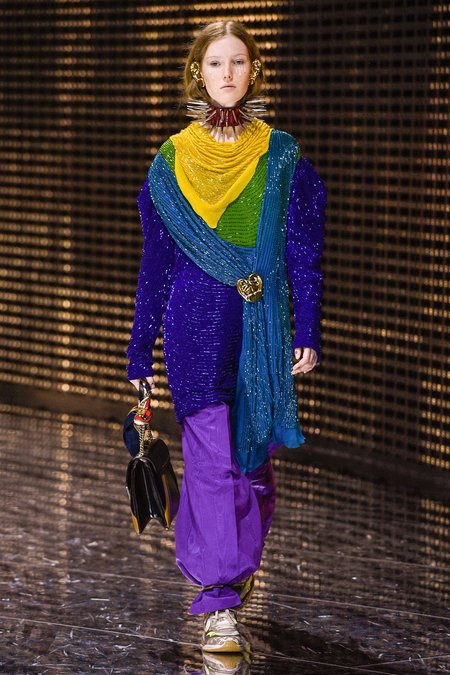 The show invitation said it all: a wooden Gucci crate containing a papier-mâché-style mask of Greek mythology figure Hermaphroditus. What Alessandro Michele had in store was certainly thought-provoking, if not downright perversely scintillating.
Guests arriving at the Gucci Hub venue were met by an elliptical show space -- filled with the sounds of growling lions and religious chants -- boasting mirrored floors, bench seats and an alternating near total darkness and pulsating sunshine glare. Models, many of whom wore colorful, face-obscuring Jason Voorhees masks featuring spikes and medieval-looking collars harking back to the 16th and 17 century, were a conversation starter, a sign of something that both conceals and reveals -- and a complement to the garments coming to a store near you.
As has become the norm, Michele displayed a cavalcade of ideas and show tricks in his collection. From '40s-inspired tailoring to mismatched gold and silver platforms, Michele leaned heavily on shades of beige and blood red in this collection, featured on voluminous wide-legged trousers, sharp-shouldered jackets and exploded houndstooth-check suits. Conspicuous Pierrot collars juxtaposed raw edge lapels, while nonsensical words like "ice," "lolly" and "sucker" were sprinkled throughout.
There's no denying Michele is a showman. Just don't mistake eccentricity for restraint.