Gucci Spring 2018 - Runway Review
September

20

,

2017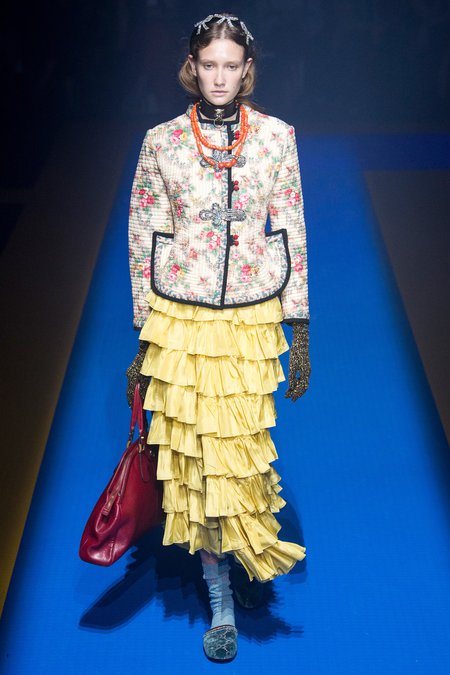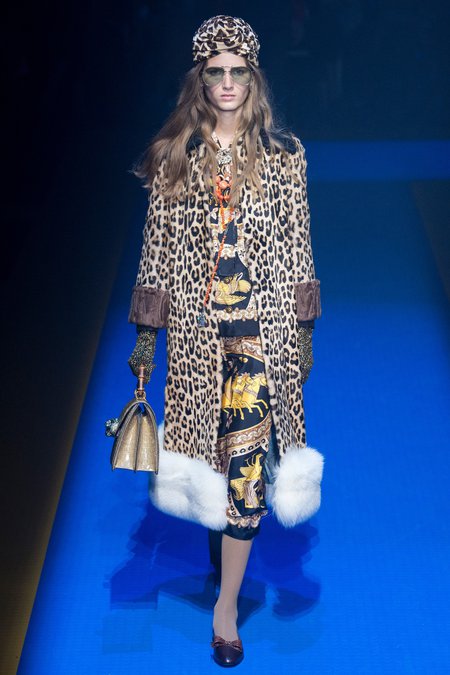 Disney and Sega? Elton John? Well, it has to be yet another Gucci show from its revered leader Alessandro Michele. It was intense, full with vintage references and dark -- literally. Held in a vast warehouse space intricately decorated with Greek and Roman statues and replica antiquities, the constant strobing spotlights made it near-impossible to fully appreciate the charge of Michele's designs.
Michele, easily one of the most commercially successful designers in history, takes full advantage of his love for art history in presenting his multi-layered collections. Paired with modern day social media, he truly is the master of his universe. As for the clothes, they were classic new-Gucci.
Michele was granted access to Elton John's archive of starry glam rocks clothes and the results were evident: a leather suit appliquéd with musical notes, a jacket with pom-poms or how about a purple sequined number embellished with lime green snakes? Lest we forget, there was also the more outre pink satin clown suit with dramatic pagoda shoulders. 
In total, 108 looks sped down the runway, running the gamut from the antique to contemporary streetwear. Sure, there were plenty of future bestsellers: bejewelled racing jackets, Prince of Wales checked suits, track jackets with slogans like "animal magnetism" and a knit that read "Never marry a Mitford" lifted from the collection at Chatsworth House.
As Michele continues to transform Gucci, no longer is it about the season. It's now about the world.