Loewe Fall 2017 - Runway Review
March

5

,

2017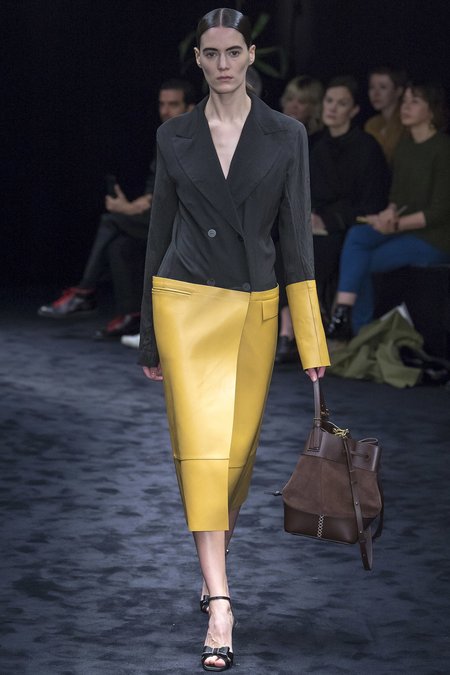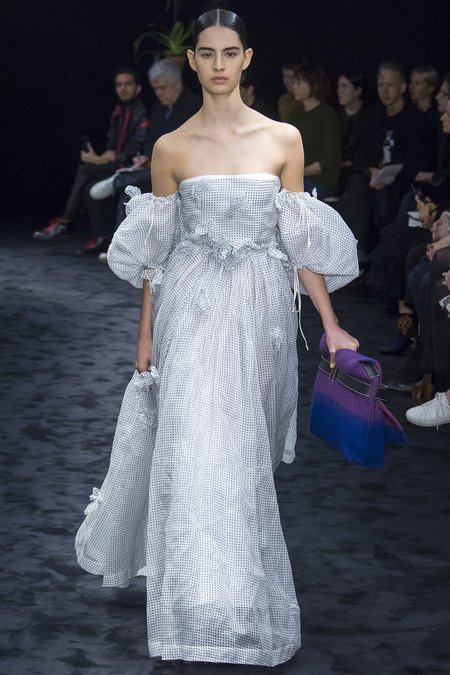 Jonathan Anderson wasn't about to let show-goers see his Fall 2017 Loewe collection that easily. Instead, the designer led attendees through a dark labyrinth illuminated only by spotlights trained on massive orchid-lined walls. This, after receiving an hand-embroidered linen square invitation that read, in white chain-stitch, "You Can't Take It With You."
The hunt, though, definitely had its rewards: awaiting inside was a playful collection studded with tartan coats topped off with miniature airplanes; stuffed animals that doubled as purses; ankle-skimming fur coats; exaggerated, oversized polka dots; leopard-print sweaters; and giant, wide-brimmed hats.
The sophisticated collection had guests immersed in an art installation. And despite the threat of not being able to see the clothes for their full beauty, Anderson was justified with his choice of setup: an extraordinary variety of fabric-development.
Loewe is a brand that is slowly make a resurgence in the States—and as clients begin to familiarize themselves with the label's signature handmade textures, the orchestrating of the garments was quite a feat.
Swishy midi dresses; a puffy-sleeved, 18th-century off-the-shoulder; a caramel cashmere coat and a patchwork dress with a flavor of the American West walked alongside something striped with burned-out patches filled in with black chantilly lace.
As usual, it was more polished than Anderson's outing in London earlier this month for his namesake label, though there were still some connections to be had. Take a floral party dress that dissolved into ostrich feathers at the hemline, a design that also turned out to be nesting in Paris with sleeves that capped with masses of feathers-turned cuffs.