Louis Vuitton Spring 2020 - Runway Review
October

1

,

2019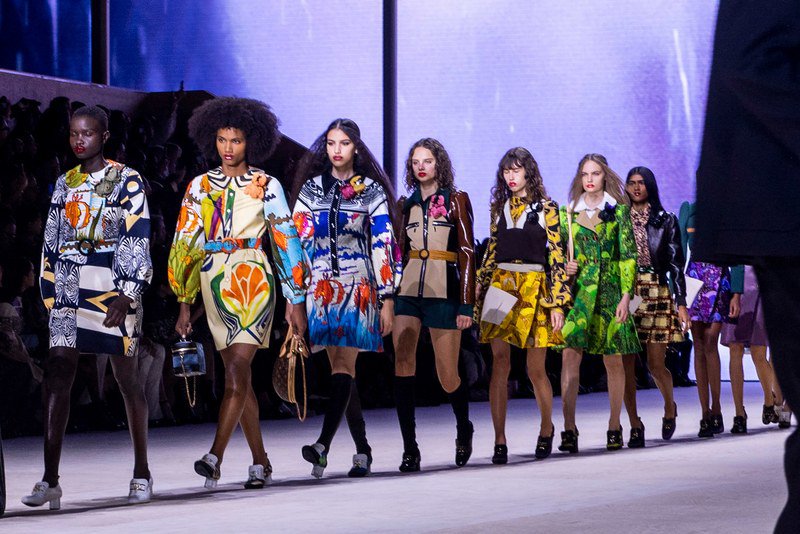 Nicolas Ghesquière's Louis Vuitton show not only marked the end of another month of fashion shows, but served as the last word in fashion before the start of a new decade. Apropos, really, given the lauded designer's love for, and application of, all things futuristic in his designs all the while inspired by the Vuitton heritage of the family's home. This season, Ghesquière said he set the time machine to Belle Époque-era Paris -- aka more or less the time where the birth and rise of Maison Louis Vuitton took place.
"It was a time of excitement and tremendous change. It's about revisiting all that," he explained. "It was an exponential moment for the house, which then began to travel the world."
Looming over the audience was transgender singer Sophie Xeon, known simply as Sophie, performing an extended version of her 2017 track "It's Okay to Cry." Somewhat surreally, models emerged from a door set in the middle of the performer's chest. And, pray tell, does such an era showcase stylistically? Pouf sleeves; iris boutonnières; Gibson girl hairdos and all the Art Nouveau touches, from the swirls of a green jacquard coat to the painterly flowers on a trio of simple dresses to a leather jacket hand-painted with cherubic faces to mismatched suits pairing shrunken jackets with wide-legged pants. Bags also riffed on the theme, as a VHS-shaped rectangular bag opened the show and a series of monogram totes adorned with stacks of vintage tape stickers that cheekily morphed "The Terminator" into The Trunkinator and "Thelma and Louise" become Gaston and Louis.