Maison Margiela Fall 2017 - Runway Review
March

2

,

2017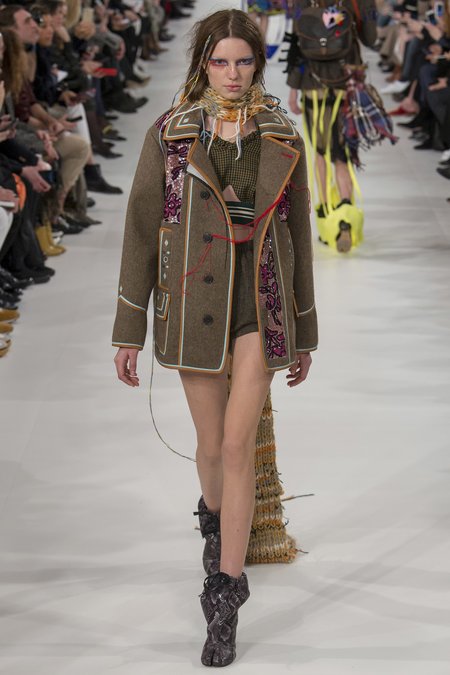 Edward Scissorhands, meet John Galliano. In a fall collection that played upon the fanciful dreams of a whimsical fantasyland, Maison Margiela was all about the deconstruction of a classic wardrobe with that one rudimentary tool essential to any craftsman: a pair of scissors.
Snip, snip, snip went much of the collection — stripping the precious garments down to their bare essentials. The first look, a traditional trench coat, featured a heart shape cutout at the chest that alluded to a bustier dress in front and the Statue of Liberty's crown on back. This exercise in cutting out pieces of clothing and layering them on top of whole garments transpired throughout the entire show — and were anything but elementary.
From blown-up prints and polka dots to faux snakeskin and checks, there was a decidedly heavy emphasis on rawness with this collection. While there was an allusion to America being the influence for the garments, Galliano has never been much a political designer. Instead, it resonated more in the sense of liberty and freedom as metaphors.
The vertical lines, say, on a plaid check on a patchwork coat were frayed into tassels — the textile itself deconstructed — which meshed with the tousled hair of the runway model and her surrealist boots with half-detached kitten heel. Elsewhere, there were references to Marilyn Monroe, the old days of the western frontier, blue-collar workers, corporate suiting, the military and the multi-ethnicities and religions of America. And, of course, varsity coats were turned inside out with the hidden rough hems exposed. It was an exceptional collection calmed by the presence of perfectly wearable pieces.