Max Mara Fall 2018 - Runway Review
February

22

,

2018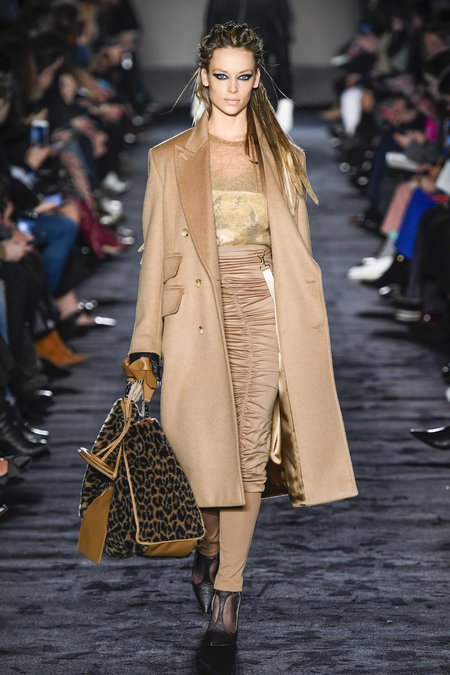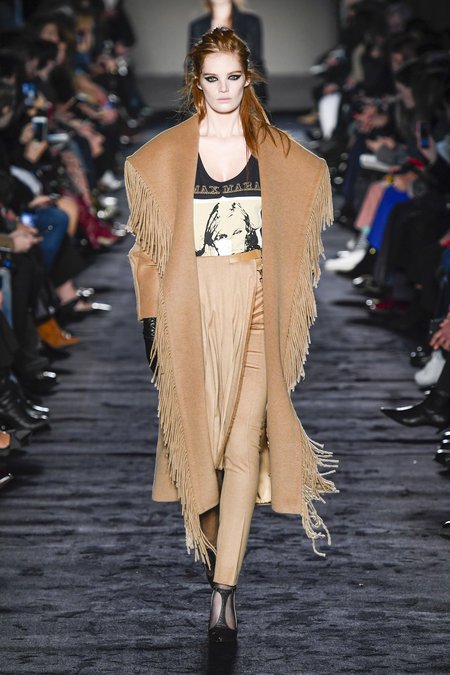 Max Mara channeled the feminine appeal of a rock 'n' roll star for its Fall 2018 collection, just the latest in a series of strong female muses the brand has had. "The Max Mara woman demands success on her own terms," the show notes read. "Her don't-mess-with-me-coat and those tough looking leather suspenders hanging from her waistband are a declaration that our heroine is in a determined and defiant mood."
From there, the show cited punk queens Siouxsie and Sinead and with an upbeat soundtrack to match, the models strutted out in layered leather and plenty of leopard print. Despite the modern rock chick attitude, however, the collection retained a signature modesty in its sex appeal. Hemlines were long and necklines high; ruched bandana dresses were styled with T-shirts and leggings underneath while leather knee-length skirts were shown worn over leather trousers.
Continuing a trend seen in London, clashing prints and textures were all the rage here. Leopard was layered with tonal checks, while an ostrich skirt was paired with pinstripe trousers. Maxi skirts looked like they could have been made from woolen rugs. As for evening, that came in the form of sequin blazers worn with slim trousers and T-shirts, ankle-length slip dresses under oversized teddy bear coats and sparkly versions of the label's cozy blanket skirt. 
Speaking of coats, it wouldn't be a fall show without Max Mara's bread and butter: outerwear. As well as plenty of variations of its classic camel coat, including beautiful versions in pink and in leopard print, there was also a new proposition for the 9-to-5 working woman in the form of a new three piece suit: a pencil skirt worn over skinny trousers with matching coat.