Moncler Gamme Rouge Fall 2017 - Runway Review
March

7

,

2017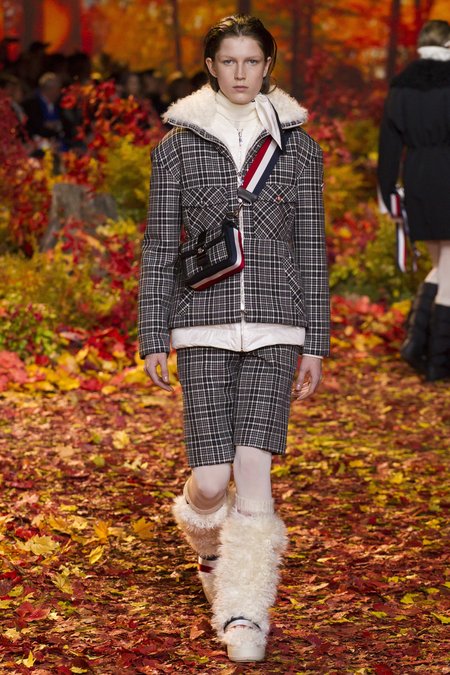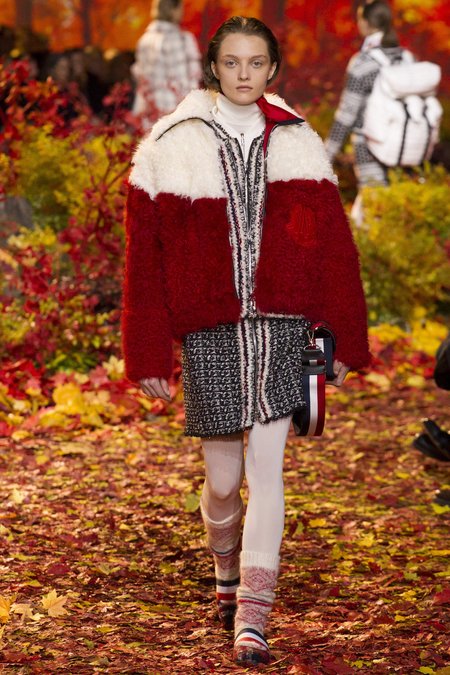 Scandinavia was in the air at Moncler. An autumnal forest decor with spray-painted golden fallen leaves met guests at Giambattista Valli's show in the woods. And references to the styles of the northernmost reaches of Europe were ubiquitous in the wintery 48-look display.
Thick Scandinavian knits with the signature zigzags and motifs that circled the neck appeared on layered top-heavy silhouettes with short minis and woolly tights. The buffalo-check jacket exuded polish, while an extra-shaggy bomber in red and white was terrific. You could just imaging a Parisian girl headed out on a voyage with her floral backpack and sporty tweeds.
Knitted gloves and the famed, knitted boot-sock that helps those in the colder climates stay warm in the winter months added a fun touch to imaginative and well-executed collection. Straps on the torso, not to mention white tights, socks and moccasins, evoked the braces of skiing salopettes while men dressed as Mounties closed the show.
Flower motifs — a Valli signature — came in purple, green and maroon. The outerwear and accessories, patterned in buds and blossoms, vaguely suggested the 1950s.