Nina Ricci Fall 2017 - Runway Review
March

6

,

2017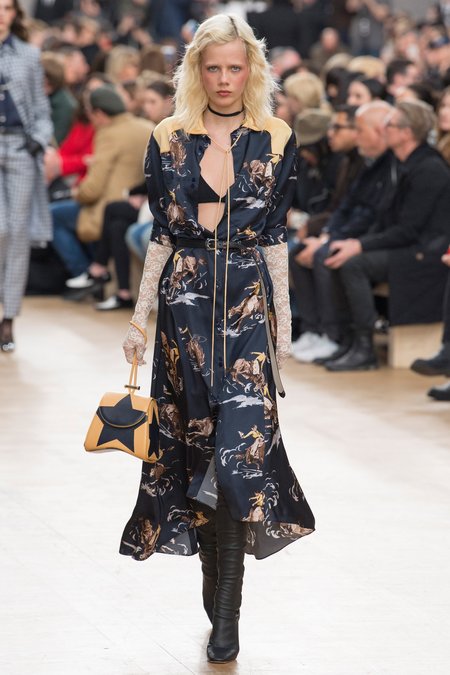 It was the Wild West — but not as we know it. Guillaume Henry saddled up his fashion horse and ventured far afield for his Fall inspiration at Nina Ricci, heading all the way to rodeo country—America—and in particular the left coast.
The designer tamed the styles of the American cowgirl for the chic Parisian audience with shapes and detailing of the westerner rendered in a beautifully soft color palette, with lashings of pink and peach: the snap closures, metal collar clips, and yoke seaming of shirts. Skirts and coats with hip cutouts modeled on cowboy chaps. Prints with cowboy and rodeo motifs, including that of a bucking bronco, speckled with stars, sequins and filk fringe followed buttoned-up shirts, belts with exaggerated silver buckles, checks and hanging pendants with cowboy- style silver clasps. The curve-hugging corduroy pieces were lovely.
A standout long coat-pant look toyed cleverly with the rodeo style in this playful collection. Feminine soft turquoise replaced blue denim, and the big Western leather collar was given a feminine twist, flopping softly and delicately.