Prada Fall 2017 - Runway Review
February

24

,

2017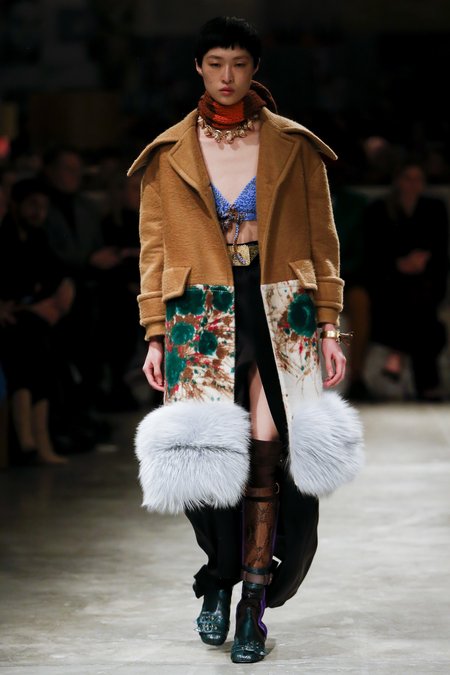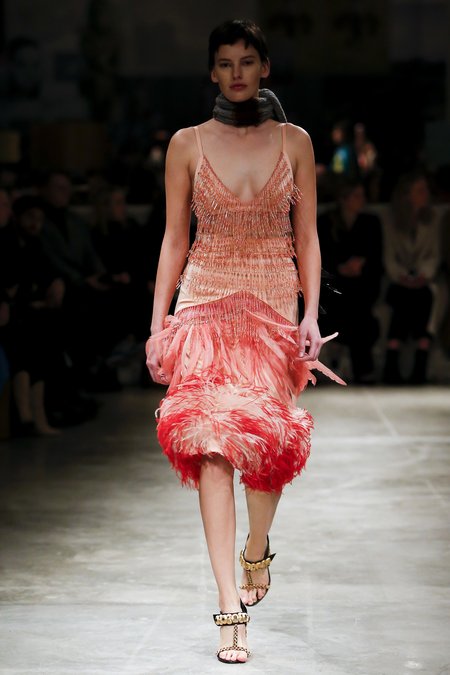 With no purposeful political message in mind, Miuccia Prada delivered a Fall 2017 collection that was, at its core, a multicolored, ostrich-feathered, crystal-fringed blockbuster of a collection.
Preferring to let the clothes speak for her, fall resonated with a strong movement of the 1970s, with nods to today's protests centered around the rights of women and immigrants. Prada may have said she wasn't referencing any past historical moments—which seemingly begrudged any native references—but the results spoke otherwise.
Upon entering the cavernous show venue, the show's female power vibe was evident. Pretend-movie posters—and illustrated pinups of '50s and '60s femmes fatales on the walls—dominated the walls. Lower down, there was a set evoking a teenage dorm to sit.
To wit, crocheted bras alluded to a bygone protest era when women shed theirs, even burned them. Fur parkas with full hoods and Eskimo boots and trailing feathers referenced Native American cultures fighting for control over their resources. There was even handcrafted knitwear, while tweed and corduroy showed the more assertive, even homely, side. But for as much as the collection looked hard, its feminine forms and use of sensual materials resonated beautifully.
From the '50s well into the early '70s, Prada tapped into all the  classifications of dress, from Baker Boy hats and patchwork leather to sex-bomb girls. There were mohair dresses with a mermaid ruffle below the knees, crepe dresses with beading and feather accents and satiny gowns with knee-high red boots, clearly made for walking. But there were also marabou feathered slippers, not to mention ostrich feather-sewn hemlines.