Prada Fall 2018 - Runway Review
February

22

,

2018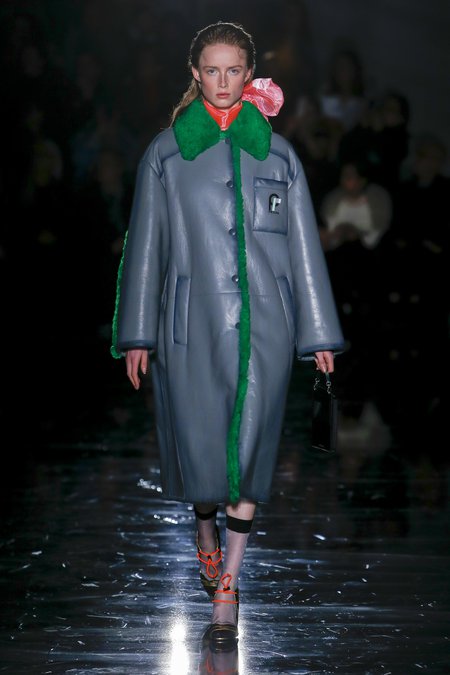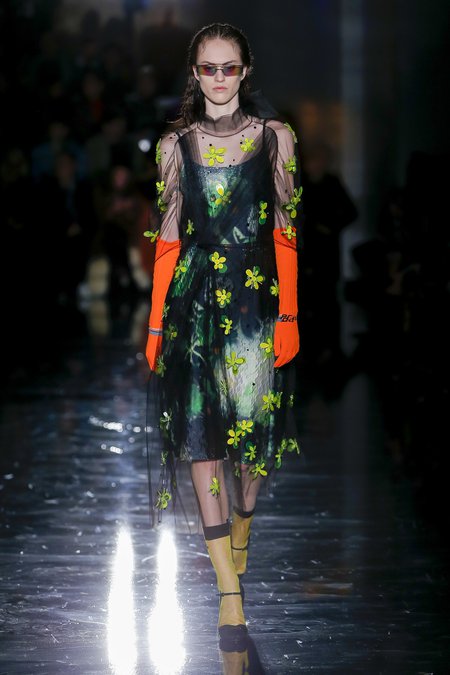 It all felt very "Blade Runner" at the Prada Fall 2018 show. Held inside the nearly finished Rem Koolhaas tower of Fondazione Prada, attendees faced a wall of windows overlooking train tracks and clusters of neon signs, which hung atop cranes and represented motifs from past Prada collection. With a late evening show and the Milan cityscape twinkling in the distance, the effect was at once polished and otherworldly (the eerie, remixed version of Blondie's "Heart of Glass" certainly contributed). 
If the setting was subdued and dark, the clothes were anything but. A flood of bright neons pervaded the show, with hot-pink tulle worn underneath a puffy black nylon as one example. Prada's quirky sense of layering was on full display here, their mismatched elements showcased in sensible ways -- think rubber boots with cocktail dresses and turtlenecks under bustier tops. 
"We are living in a period which is interesting because we do not known where we are going," Prada said of the show, which was inspired by virtual reality. "Of course scary, of course worrying. But also interesting because of the feeling that big changes are coming."