Prada Fall 2019 - Runway Review
February

21

,

2019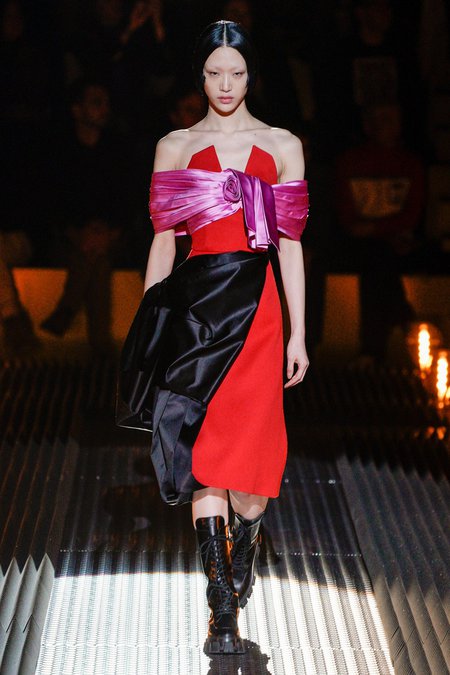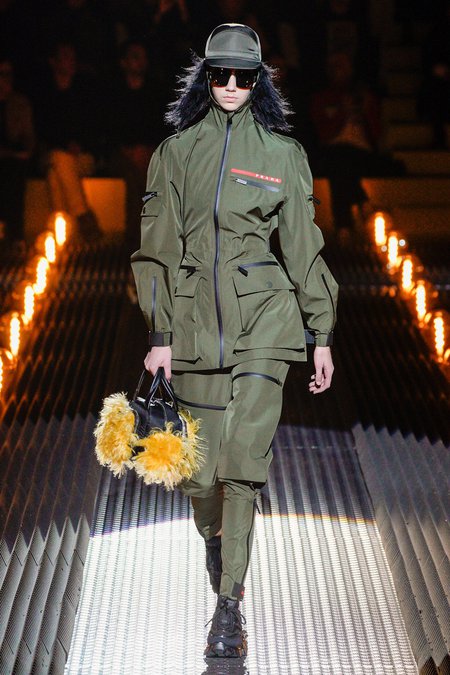 Fear and fairy tales, as only Miuccia Prada could combine. 
While undeniably romantic, Prada's fall collection made no qualms about extending its menswear Frankenstein references into its women's offerings -- complete with a bleached-browed Cara Delevingne in a sheath dress. Cocktail dresses came utility-strapped and pocketed, shirtdresses boasted crystal embroidery juxtaposed by leather harnesses and all sorts of quirky rose prints and lightning bolts adorned knits. Did we mention the models sported Wednesday Addams hairdos as they walked down a spiky foamed runway amidst a field of up-lit bulbs?
A beautiful, bad romance permeated the collection -- not the least dictated by the "Bad Romance" violin medley played during the show. Fashion's favorite trailblazer took issue with the notion of looking at both sides of a love story as she mixed cloth and nylon with satin and lace. Harder-edge military wear came in the form of olive green jackets with furry collars and coats and pocketed skirt suits. Then there were the large yellow and red roses that adorned many of the softer garments, some with their green stems hanging off skirts just so, while satin dresses and shiny skirts featured simple, colorful floral prints. Others were completely tonal. All looks came accessorized with chunky high lace up boots as well as sparkly sandals.