Prada Spring 2018 - Runway Review
September

21

,

2017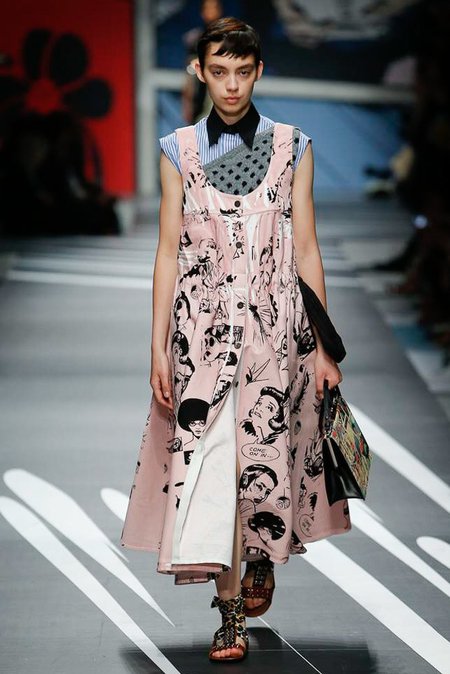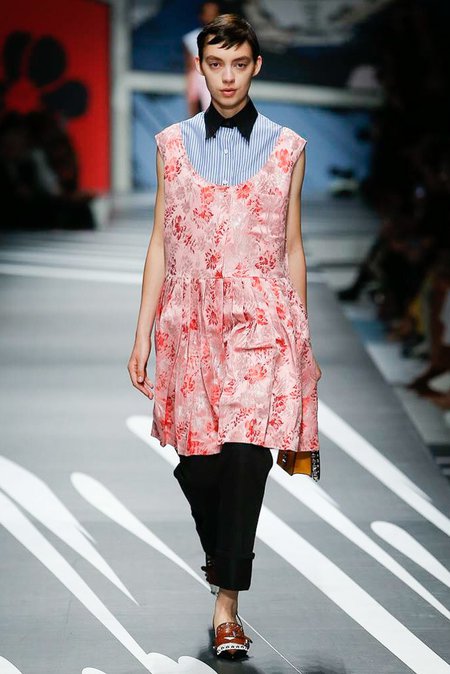 Illustrating the power of her pencil, Miuccia Prada set forth a spring Prada collection that was about signifying a change in women's attitudes, demeanors and unequivocal rights. The collection is "interested in someone who can be active and present today," she explained. Yet for all the severity of her language, her militant-style garments were very practical in their reliability. 
Set among the work of female cartoonists and manga artists whose drawings were featured throughout Prada's massive headquarters, the combination of contemporary and throwback artists really told the lives of women through the decades. And from there, the black (and blank) canvases of her textiles, that emerged her human stamp. Overall, the highly-energetic collection felt super-sized, supercharged and electrifying. For as much a fervor as there was, she never sacrificed her penchant for terrific tailoring. 
From big overcoats with pushed-up sleeves to oversize jackets with lopped-off sleeves, it all looked fabulous with their embellishments and embroideries. Heck, there was even a classic black nylon Prada raincoat! Despite a penchant for showing what seemed like mini capsules within one collection, it all resonated on-brand Prada, what with the printed knee-socks, Miuccia's love of shorts, adornments via fashion jewelry and, of course, those feminist art cartoons. 
Helping ground the swells of stylish protestors were a New Wave-y mix of animal prints, cat-eye shades, zebra and leopard-spot prints, kitten-heel slingback and pointy studded brogues.