Prada Spring 2020 - Runway Review
September

18

,

2019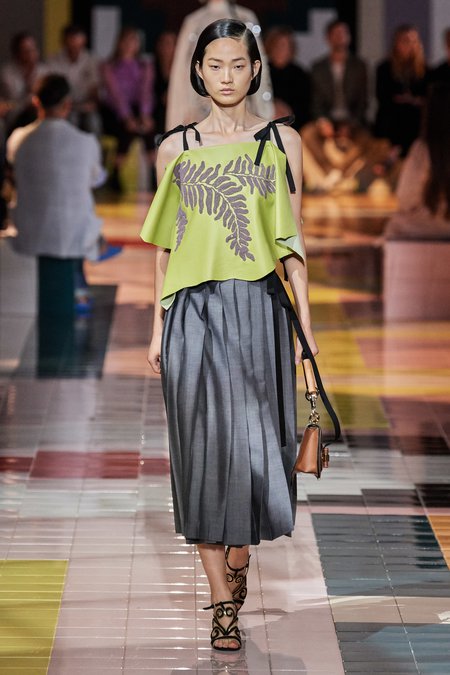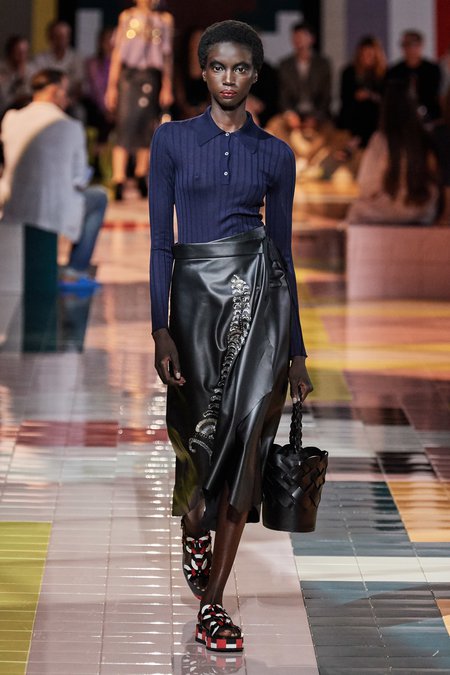 "The attributes of past decades are incidental — they cite stylistic 'tropes' rather than fashions, silhouettes and shapes which defined particular epochs, such as the 1920s, 1970 and 1990s, speaking of a wider culture," Miuccia Prada shared in her Spring 2020 show notes. "Avoiding retrospection, here those sartorial signifiers are mixed together, in a constant state of flux. Eschewing easy classification, they become simultaneously all and nothing—they contradict, undermine and reinterpret. The women wearing them reactivate these aesthetic quotations, opening them to reappraisal."
Translation: beauty lies in the details.
Held in an industrial space in the Fondazione, the venue transformed into an Art Deco bathhouse: striped with orange paint, columns wrapped in gold foil and floor hand-tiled in eccentric geometric patterns. Coupled with interlocking seating, the glossy result was a nerdy if not vibrant backdrop for a collection that mixed polish and joy. 
Freja Beha Erichsen, forever the quintessential Prada girl, opened the show in hipper-than-hip fashion. The clothes -- androgynous double-breasted suits with belt loops fabulously tailored, 1920s-inspired drop-waists and bonnets and cheesecloth dresses finished with gold sequin swirls and enormous shell necklaces (the new pearls?) -- characterized this collection's timeless testament to style. The hints of '70s intertwined with the '50s offered a raw take on elegant dressing. Sober grays with pops of electric teal and orange prints were fine tuned with tweed, paillettes, bugle beads, mohair and gold brocade; Prada staples for that quintessential textural one-two punch, really. Timelessness is hip.
The person should be more important than the clothes, Prada always said. Amen.