Proenza Schouler Fall 2017 - Runway Review
February

16

,

2017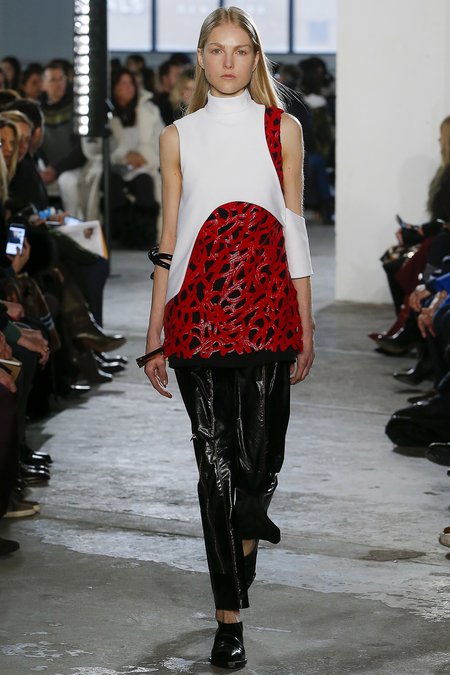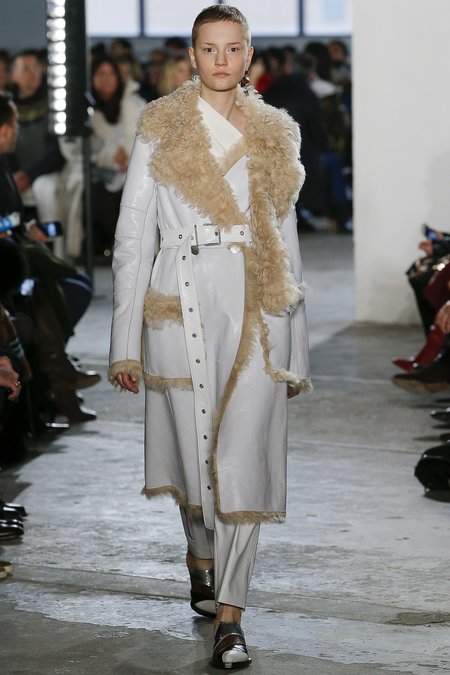 In a blaze of fashion glory, Proenza Schouler designers Jack McCollough and Lazaro Hernandez delivered a patriotic, sexy sendoff with their fall collection as they prepare to show future collections in Paris.
Viewing this collection as a punctuation mark to having spent their entire careers showing in New York, the ideas that resulted highlighted their genius for expounding their gritty elegance that has become iconic. With so many ideas thrown forward, it was difficult to decide where to start.
Experimenters by nature, the duo called their looks "anti-ease," if for anything than the sheer difficulty in producing the garments. A big, boxy outerwear piece was beautifully rendered with twists, breaks and flying streamers with the brand name spliced down the middle on extra-long zipper pulls. Outerwear was, in fact, a strong pursuit in this collection—in particular the lacquered black and white shearlings.
A black and pink paper leather sheath dress followed, twisted around the body and cinched tightly at the waist with D-ring belts, and a cloud of two-tiered ivory flou. Bold abstract prints resonated with a tribal savagery the designers love. Technical layers rippled with undulating shapes against bare skin; rendered in micro palettes, they packed a punch, particularly in red, white and blue as an alternative to expected eveningwear.