Proenza Schouler Fall 2020 - Runway Review
February

11

,

2020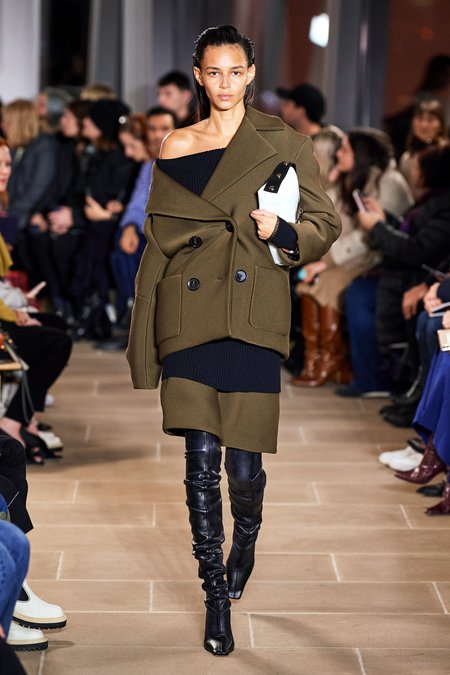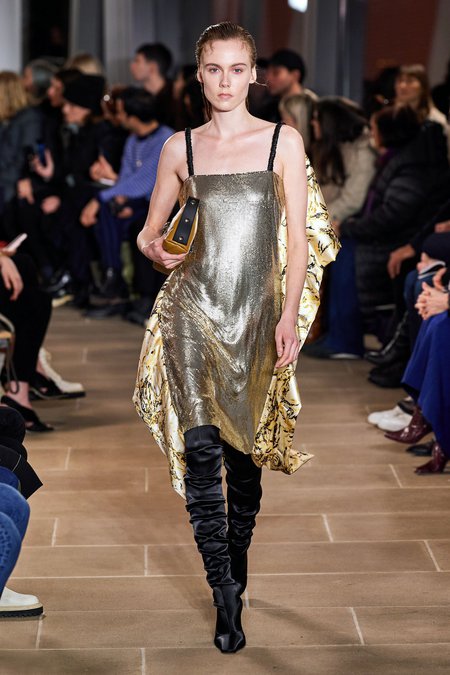 A palette of mostly black, white and camel honed in on a Proenza Schouler collection that shifted from last season's office-centric wares to post-work cocktails. This fast forward in wardrobing meant that the pieces were less practical -- but all the more desirable (and wearable). More than two dozen looks featured a moment of asymmetric styling -- oodles of off-the-shoulder knits and jackets that gave the cold shoulder to fashion. It takes a certain kind of woman to wear a double-breasted jacket slung off one shoulder, or a cape that shifts off one shoulder as she walks. A woman of purpose. She is the Proenza woman.
"The delicate balance of generous volumes twisted and wrapped around the body fastened by a single closure calls to mind the tension of control and release that dominates many a Proenza Schouler collection," the show notes read. "She is an urban, thinking woman whose sartorial choices consistently personify both her and the collective consciousness of any given moment."
This spirit of adventure and "courage of fashion" was revered thanks to the layers of self-assurance she wore on her back. Yes, the minis were short, the hems even shorter... and while this wasn't a collection ripe with thick cover-ups, the clothes still effected an air of protection.