Ralph Lauren Fall 2019 - Runway Review
September

8

,

2019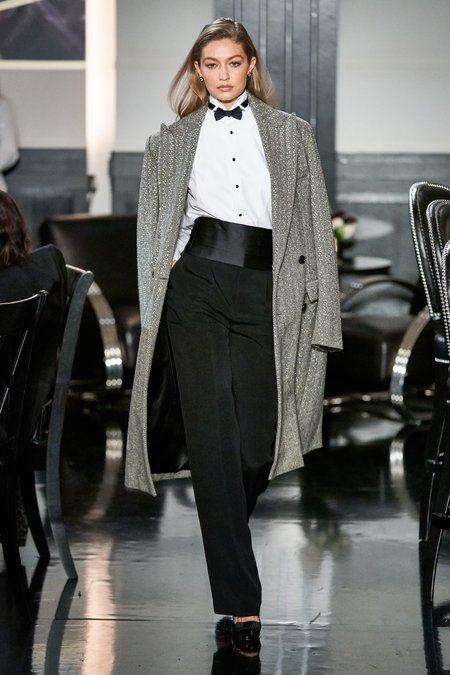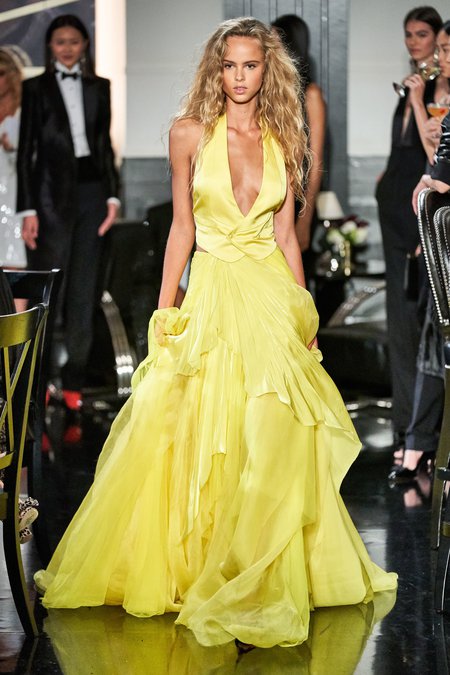 Forget the Polo Bar. Ralph's Club is where it's at. 
For one night only, Ralph Lauren transformed the Finance Museum in Downtown Manhattan into a decadent supper club reminiscent of the vivacious Art Deco era. To the tunes of a jazz band, guests, including Cate Blanchett, arrived in their best black-and-white evening attire and took their seats amongst the white leather banquets and lacquered black floors.
The classic cornerstone of French tailoring -- a silhouette immortalized by Yves Saint Laurent known as Le Smoking -- was the catalyst for this Fall collection. A natural for Lauren, really, given his penchant for adapting men's shirting and suiting for women -- not to mention his impeccable tailoring (cue Diane Keaton in "Annie Hall"). Gigi Hadid kicked off the evening's festivities, strolling out in a crystal-studded herringbone overcoat and bow tie fastening her tuxedo shirt. To the sound of Sinatra's "Night and Day," the models, one by one, sauntered out in strong, primary-color variations on the satin tuxedo jacket in red, blue and yellow. It was the velvet robe version, however, that was most perfect -- gorgeously juxtaposed with Bella Hadid's smashing, and show-stopping, red sequin gown.