Ralph Lauren Spring 2019 - Runway Review
February

7

,

2019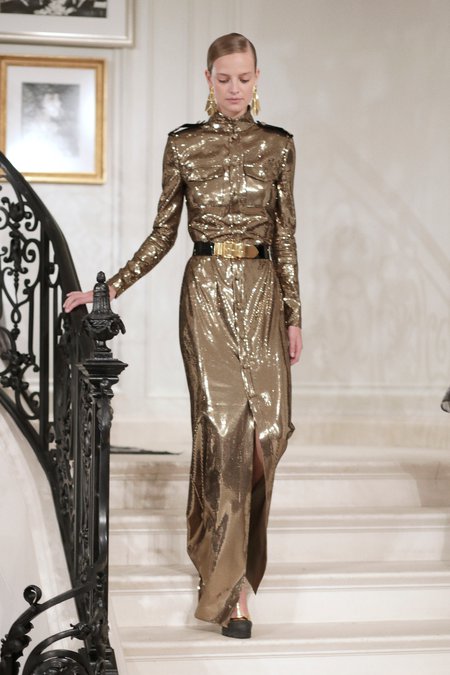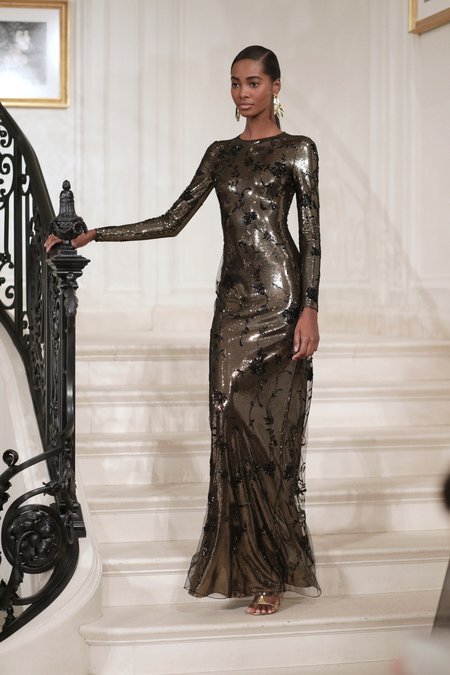 On the heels of a spectacular 50th anniversary show at Central Park last September, Ralph Lauren opted for a more intimate setting in the form of breakfast at Ralph's to showcase his spring collection. The refreshing and charming backdrop set the mood for a decidedly clean and crisp collection. Taylor Hill descended the stairs in a white admiral jacket and billowing super-wide pants -- pure, polished and unfussy in tone. A naval theme pervaded throughout the collection, punctuated by pops of graphic black, white and gold.
Demure silhouettes dominated throughout, from the crewneck day dresses cinched with metallic gold belts to evening tuxedos cut with a dramatic line straight down to the floor. It all felt modern yet appropriate -- clothes women want to wear right now. A fabulous floral print added further interest, as did flourishes of gold. Among the key looks were a T-shirt dress in sparkly gold and black stripes and jacket and pants in denim -- embroidered with silk thread and Swarovski crystals. 
Which brings us to evening. Of all the shimmering dresses ready for the Oscar red carpet, Bella Hadid's V-neck number caught the most light. The jolt was fabulous. A black organza jumpsuit with subtle floral motif was lovely, as was a polo shirt extended to floor-length and covered in sequins (with a tiny polo player discreetly embroidered just so).