Rick Owens Fall 2019 - Runway Review
February

28

,

2019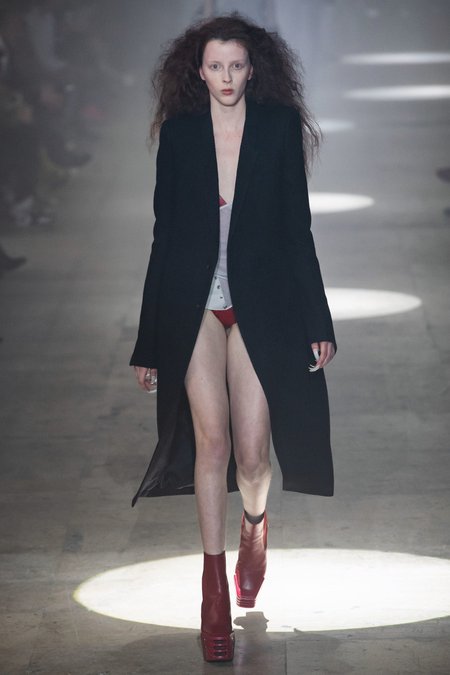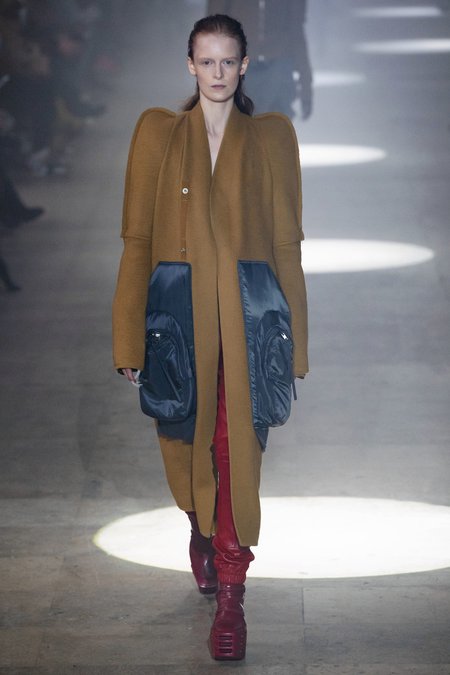 In one word: frightening. 
Rick Owens tested the limits of terror with a frightening show that featured alien-like styles inspired by the legendary rock group Kiss -- specifically, Larry LeGaspi, the U.S. designer whose silver and black space-age looks the rock band wore. We'll get to the clothes in a moment; the monster-like face makeup -- horns, billowing wigs, alien-like nose cartilage and giant black pupils straight from Momo Face nightmares -- invaded the Palais de Tokyo.
For the most part, the lithe and angular collection, save for a few long, tailored coats in the beginning, quickly morphed to exaggerated silhouettes with big curved shoulders and space-age sleeves that really pushed the boundaries of acceptable fashion, not to mention limits of sartorial sanity. Owens knows his way around fabric manipulation, and his signature wraps that swaddle, drape and cocoon the body were all present. 
Despite all the theatrics, there was some practicality to the collection: a cherry-red leather jumpsuit, snap-crotch bodysuits and oversized outerwear with nylon cargo pockets grafted to them. Held in the hand as daggers, lightning bolt charms dangled from bags, pouches and duffels while platform boots and plenty of high, sharp shoulders took rock-glam proportions to new heights. Literally.