Saint Laurent Fall 2018 - Runway Review
February

26

,

2018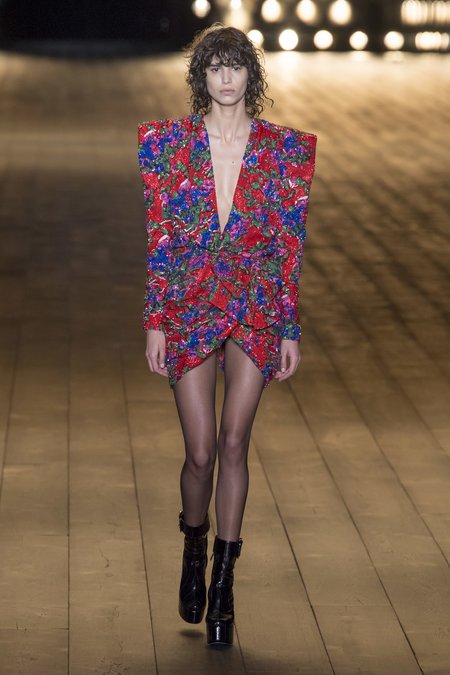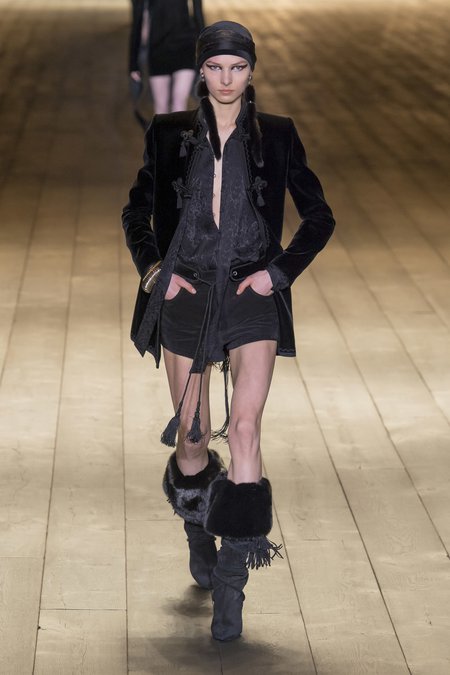 Anthony Vaccarello once again tapped Paris's ultimate accessory -- the Eiffel Tower -- as the backdrop for his fabulous Fall 2018 Saint Laurent show. Dark and atmospheric, the warehouse-style setup recalled the unbridled excesses of the 1980s what with their eerily perverse designs done in mainly black and doused in glitter. Set with a beam light cast over each model while a smoke machine chugged out wisps of mist, the black-on-black-on-black scenescape was intentional in its moody spirit. 
Huge fringed boots, black mini dresses and voluminous sleeves gave way to a finale of loose (relatively speaking) metallic disco dresses with floral sequin embroidery, powerful shoulders and requisite plunging necklines. Everything shimmered in the light. Overall, there was a brooding sensuality in the details, such as patent black leather gloves, wide brimmed hat worn over the eyes or a black fur band that wrapped the bust set against naked shoulders, that put a woman's anatomy (her bare legs,  to be exact) front and center. How else to explain the luxe shorts done in black leather or fur-trimmed? They looked fierce worn with boxy velvet braid-trimmed jackets, leather blazers, lace-inset peasant blouses or a simple T-shirt. 
In addition to the series of dramatic half-moon-shaped dresses, including a particularly chic single-sleeve version worn by Kaia Gerber, a real scene-stealer was a black column dress that evoked a tuxedo (the power suit is back!) and maintained the form of a front section artfully cut just so. In lieu of a traditional white shirt worn underneath, Vaccarello opted to reveal her bare chest. It was a major statement in this time of Time's Up, but worth recalling that it was Monsieur Saint Laurent who helped revolutionize fashion and gender when he debuted "le smoking" in 1966.