Saint Laurent Spring 2017 - Runway Review
September

27

,

2016
The neon YSL suspended from a crane in the colors of the French flag over the massive courtyard of a 17th-century hôtel particulier literally set expectations high for Anthony Vaccarello's debut at Saint Laurent (not to mention signaling the return of the iconic Cassandre logo once banned under ex-design chief Hedi Slimane).
Like a giant branded moon over a building site, the first big show of Paris Fashion Week kicked off with a deafening boom—figuratively and not literally, as would have been the case with Slimane's predilection for loud rock performances.
The crane—not a prop, mind you—was merely a machine being used to build the fashion house's new Left Bank headquarters, but nevertheless provided a raw first impression of the "new Saint Laurent." Inside, with fluorescent light casting a nightclub glow on the raw concrete arches that lined the one-sided runway, Vaccarello's proposal for the house became loud and clear.
Filled with thoughts of reconstruction and renewal, Vaccarello dove deep into the Yves Saint Laurent archives. Careful to avoid any of the sidestep cliches, he, instead delivered a slit-up-to-there rehash of the uber-sexy, ultra-mini styles that have become a Vaccarello signature—but that which Monsieur Saint Laurent himself also dabbled in.
The check-list of YSL archive references, in fact, were many. Call it Eighties overload. The sexual aesthetic was so pervasive and all-encompassing one couldn't help but wonder if cigarettes were stashed underneath each seat. The use of leather was fabulous: a sultry mini boasted voluminous sleeves a la Flamenco Dress. Yves Saint Laurent's renegade 1968 transparent looks (metallic silver pastie, anyone?), which once shocked the fashion establishment, made a razors-edge comeback while incorporating the textured materials of the famed 1976 Ballets Russes collection. Pure elegance, meanwhile, came via the revamped tuxedos, heavy doses of black and chic Le Smoking jackets worn over skintight jeans on the runway.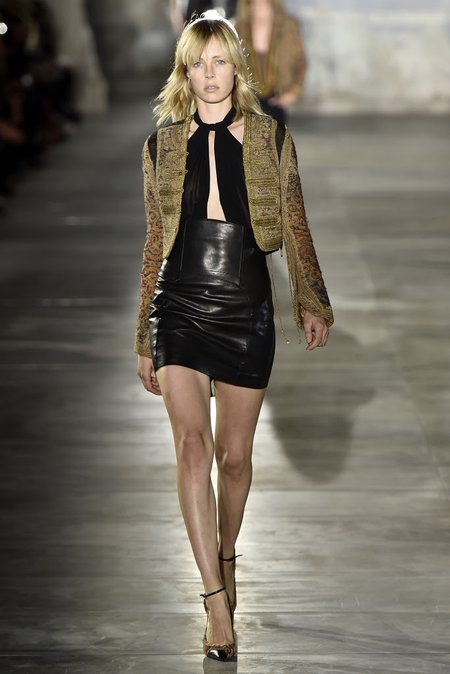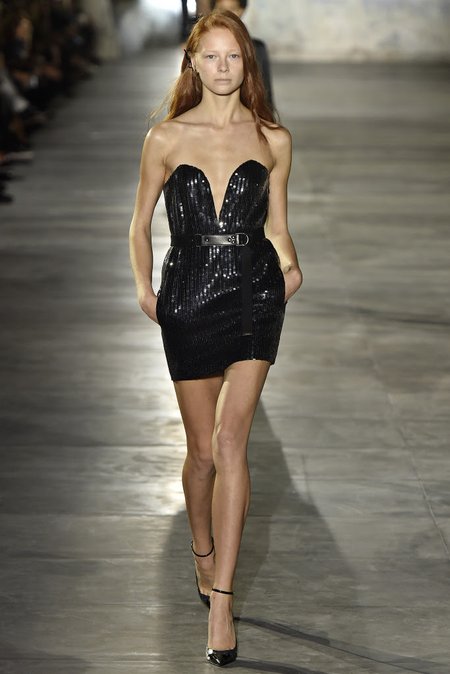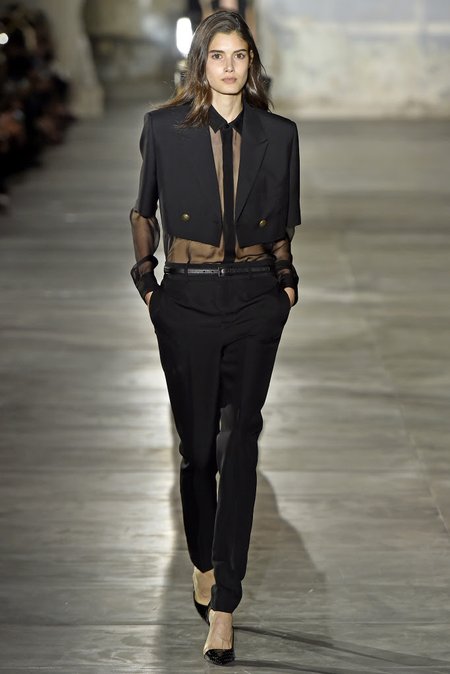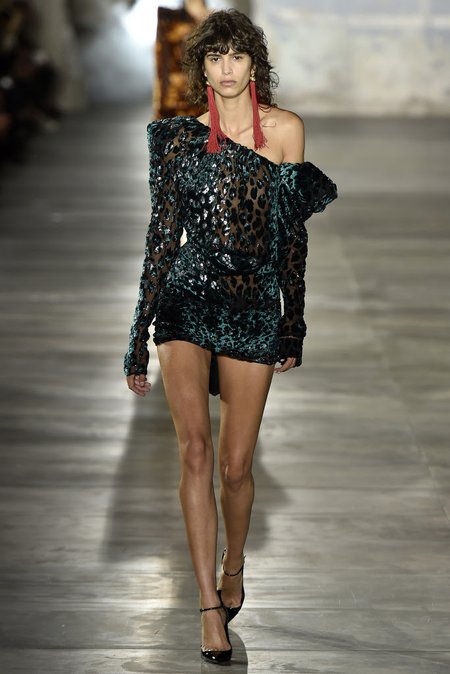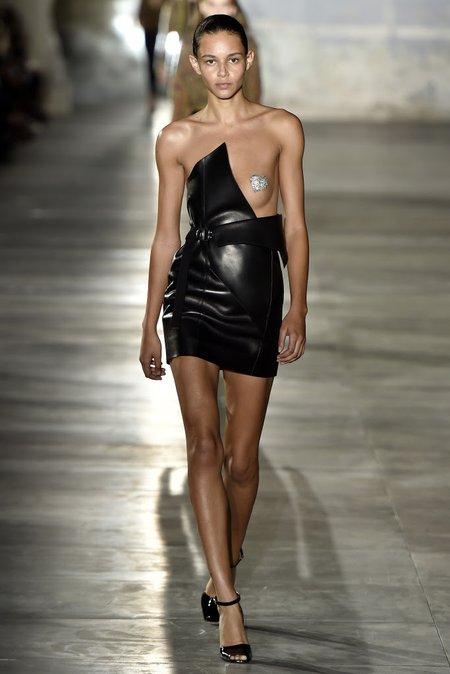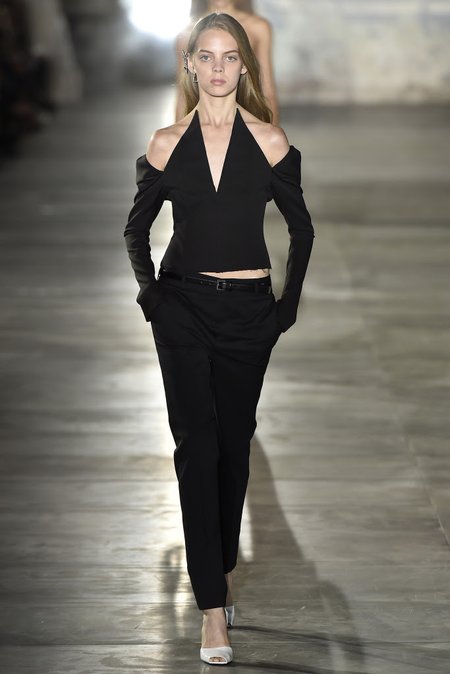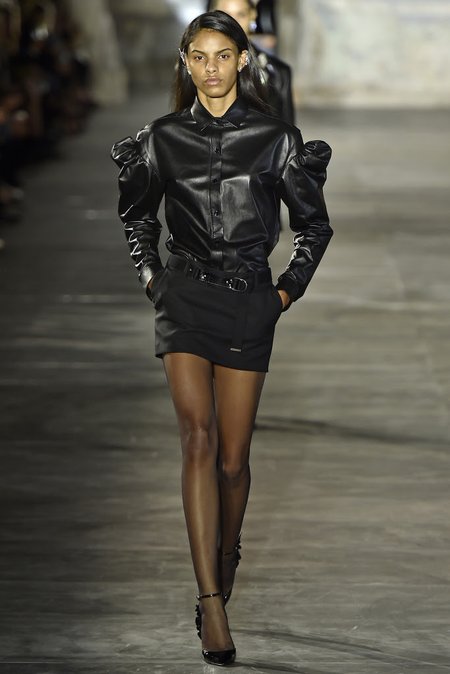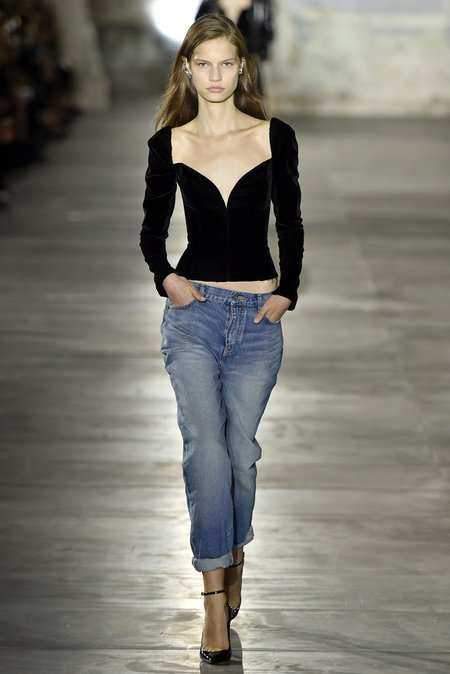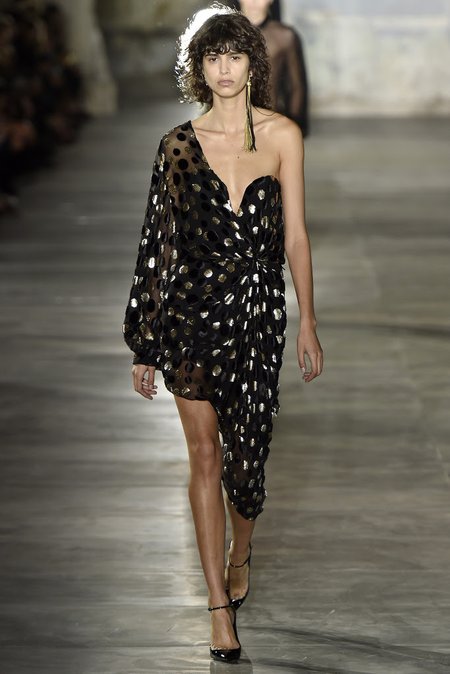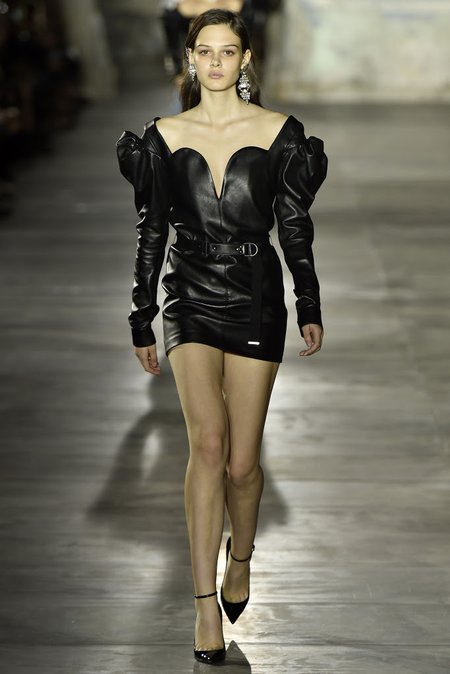 Saint Laurent Spring 2017 - Details