Salvatore Ferragamo Fall 2018 - Runway Review
February

23

,

2018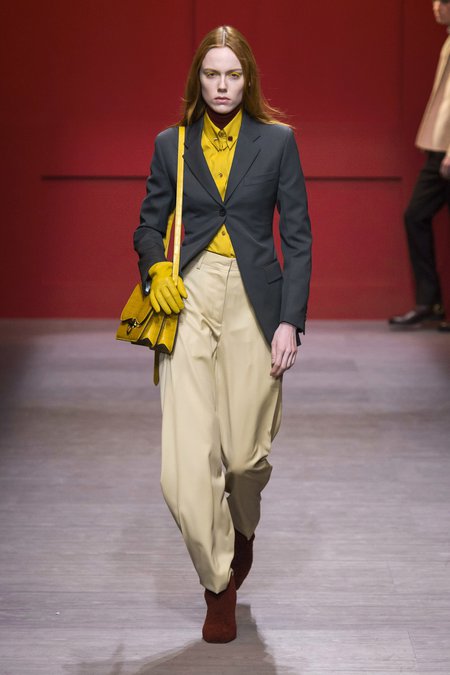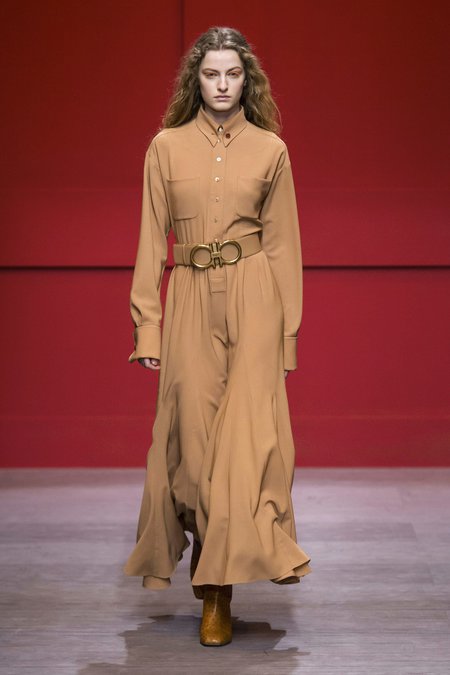 A successful reboot under its belt, Salvatore Ferragamo is looking forward and onward. But, first, a recap: shoe designer Paul Andrew presented his first women's collection for the brand on Saturday, alongside men's wear by Gaillaume Meilland. To honor Ferragamo's shoemaker heritage, Andrew's vision was derived from the ground up, and one only had to look at the stunning shearling knee-high boots dyed red or green "like '70s shag pile carpeting" to recognize the new ease he will bring to the house.
Andrew said he was inspired by the depiction of Princess Margaret as a "naughty aristocrat" in "The Crown," hence the black velvet dress with the ease of a T-shirt that looked like it could have been slept in all night—in a good way. "The idea of Princess Margaret, who is this sort of naughty aristocratic person, who has been out all night long, she is still wearing her velvet gown and it is 7 a.m. and she realizes, 'Oh, no, I need to go out and feed the pigs,'" he said.
And just for that highly specialized occasion, Andrew has created a leather poncho, a flat pair of Ostrich boots with the signature Ferragamo buckle and a big soft calf bag. Those eather boots with glazed gold heels finished in automobile factories also served as anchors for the range of covetable outerwear dominated by leather, naturally, including dramatic ponchos, shirt dresses in merlot-hued silk or made with archival Ferragamo scarves, "parakeet green" or pewter blue leather blazers and pants.
Soft ponchos, knit tops that complement Napa leather trousers and shirt-dresses in foulard prints pulled from the archives formed other key elements of the collection, delivered in a cool color palette included pewter blue, parakeet green, merlot reds and mustard yellows.. The brand's trademark double buckles — or gancini — appeared as belts and accents on footwear, peek-a-boo detailing on high boots or as a sort of stir-ups on heels.