Sportmax Fall 2017 - Runway Review
February

25

,

2017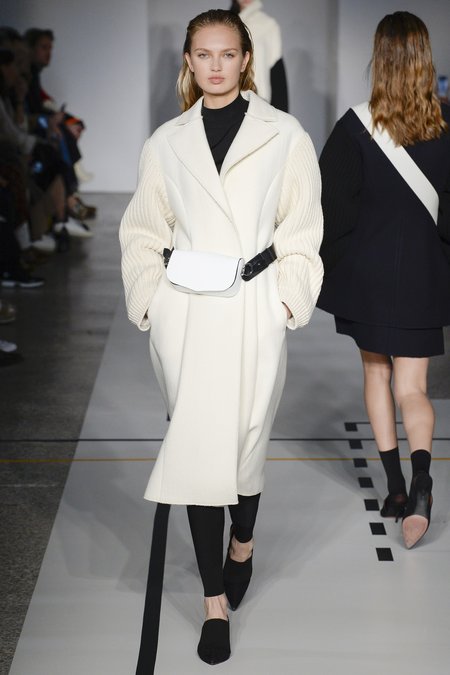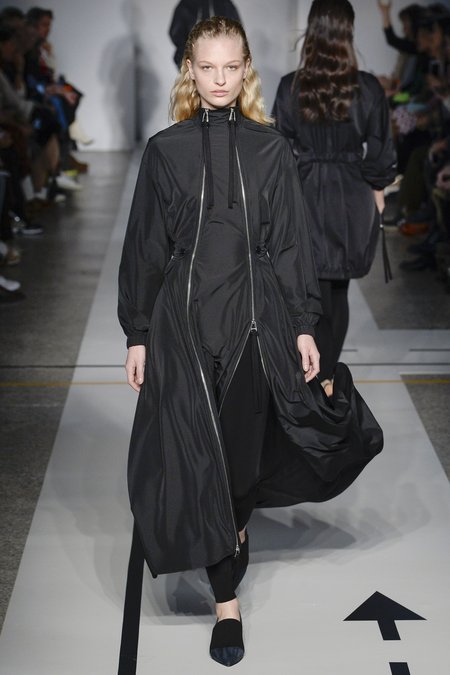 A modern insouciance enveloped the Sportmax show, its brisk parade of athleisure-inspired clothes plucked out of the every [chic] woman's wardrobe. But Lululemon this is not. Paired with pointy slingbacks, the collection felt fresh as it elevated the basics.
As an entry-level introduction to the more elevated Max Mara brand, Sportmax more than held its own. The track pants, windbreakers and lovely oversized sweaters felt fresh, as many feature active slogans like "Run" shown on a marble runway covered in arrows and lane lines.
The pseudo-airport runway, juxtaposed against a collection color palette limited to black, white, navy and orange, the outerwear, as to be expected, was striking. The black and white "jean" jackets were chic, as were jumpsuits in crepe de chine and monochrome knits and matching scarves.
A masculine trucker jacket skirt suit contrasted sharply with silk parachute dresses in black with stretch collars. Four looks—a white top and pants; another jumpsuit; and two black and white dresses—were all gathered at the waist, ironically, by a climbing carabiner. They looked fabulous.