Thom Browne Fall 2017 - Runway Review
February

17

,

2017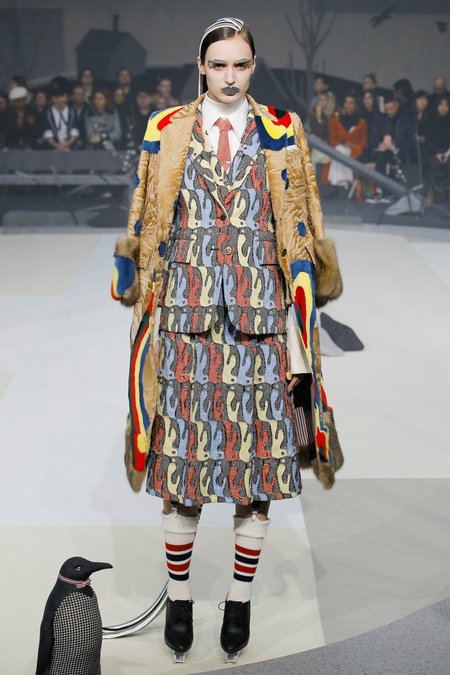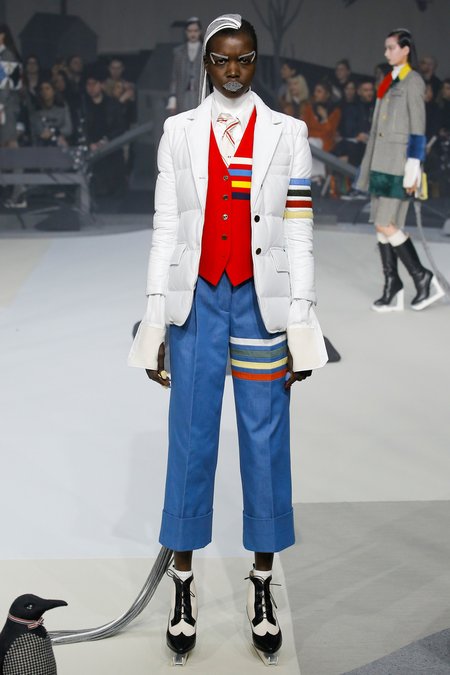 As New York Fashion Week's foremost conceptualist, Thom Browne continually has his audience ponding what abstract idea he has up his tailored sleeve. For fall that equated to the application of total art, a totally immersive experience that included penguin suits, riffs on formality and even a new penguin to keep his pet dog Hector company.
Browne called the German high art concept Gesumptkunstwerk after being introduced to the word by his partner, Metropolitan Museum of Art Costume Institute curator Andrew Bolton. Staging an elaborate set that looked like a frozen pond in midwinter, albeit one constructed out of wool and houndstooth, Browne expounded his youth referencing Amish quilts and patchwork, the latter of which showed up on outerwear and in the quilted feel of the pond itself, with panels of gray and ivory.
As for penguins being his animal of the season, not exactly. While the models glided over the rink wearing boots that looked like literal ice skates, the clothes spoke volumes on fabric manipulations and construction. Browne is, first and foremost, a tailor. The clothes he showed were compilations of traditional men's suiting, feminized in silhouette but done with all the masculine finishes.
Where Browne excelled was the execution of treatments he applied to said men's suiting: from the relatively conservative "inside out" construction of a Harris Tweed suit to an embroidered chesterfield covered in loops, seeming to channel faux fur.