Tory Burch Fall 2017 - Runway Review
February

17

,

2017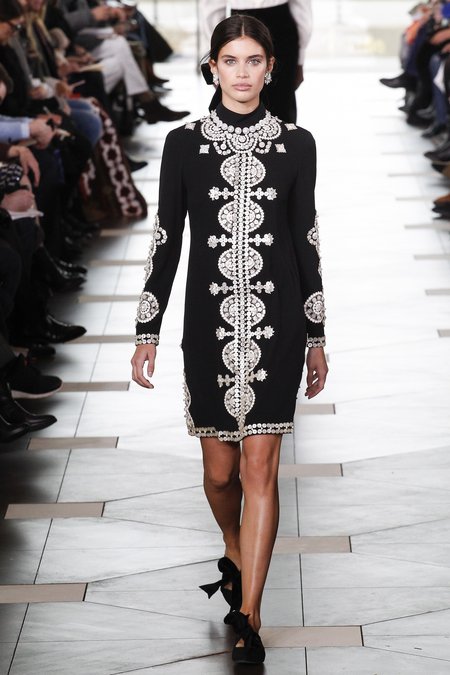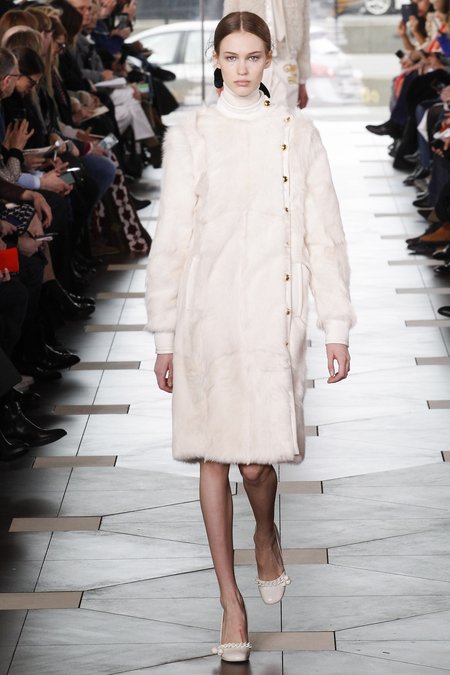 In referencing Katharine Hepburn as Tracy Lord in "The Philadelphia Story" as her inspiration, Tory Burch channeled that city's late-Thirties high society to deliver a collection that was chic, supremely wearable and utterly feminine. Burch, herself a native of the City of Brotherly Love, showcased her best in this charming collection.
This blue-blooded repartee projects a cool joie de vivre that the designer herself is all too familiar with (Burch Instagrammed a photo of her stately childhood home days before her show). In going back to her roots, she sought familiarity with elements that transported, that comforted and that were memorable. To wit, she started with a winter white coat marked with a big, swirling "TB" in gold cord embroidery—not the familiar double Ts of her famous Reva flats. From there came the pearly shell buttons on black dresses; a Fair Isle sweater with plaid pants; a black jumpsuit paired with a knotted silk blouse and a large-scale "Main-Line" plaid shearling.
Fabulous pendant necklaces, inspired by her father's cigarette lighter, lovingly complemented her otherwise all-classic ensemble of varsity cardigans, checked blazers and baseball bombers—all designed with appealing panache.