Valentino Fall 2017 - Runway Review
March

7

,

2017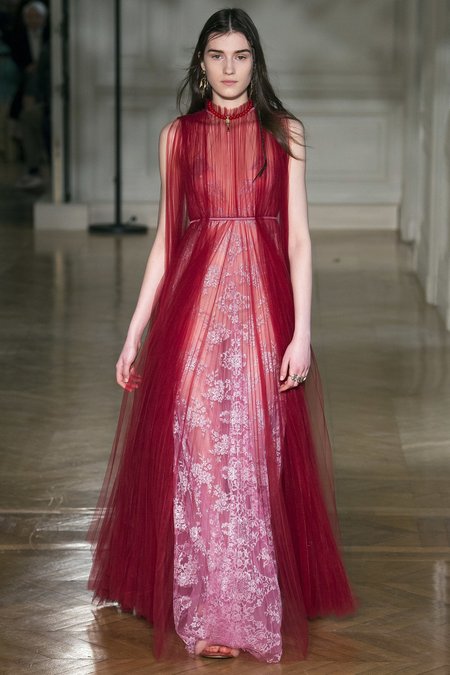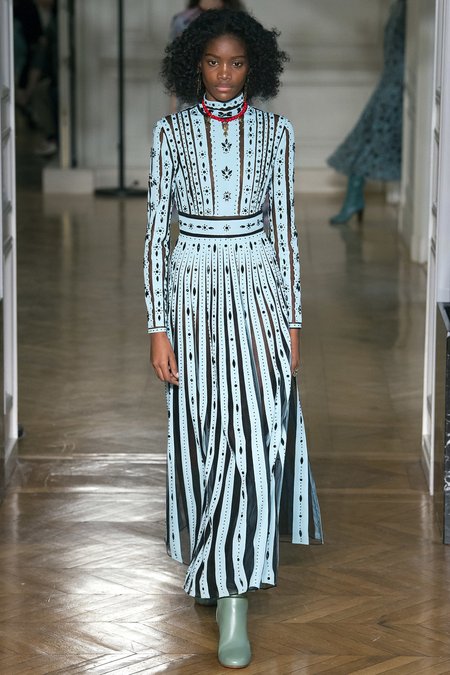 Coupling Victorian-era styles with Italian Postmodern design, Pierpaolo Piccioli delivered a ravishing (and thoughtful) collection unobstructed by the need to protest or rile. Perhaps since, under his tenure, Valentino has become all about idyllic escapism, that this fantasyland is self-supporting—albeit infused with an art-history-tined romance.
Piccioli merged Victoriana (19th-century collars) with the geometry of the Memphis Group, a design and architecture group founded in Milan that created furniture, fabrics and objects in the 1980s. At first glance, they have nothing in common, but they established the silhouettes of the collection. Softly geometric and hung loosely from the shoulder, the Victoriana provided plenty in the line of the long, high-waisted, high-necked house signature dresses; the Memphis angle led to ice cream colors and a patchworked fur coat with jazzy patterns of hands and numerals.
Colors also reflected a certain gentility: raspberry, sage green, turquoise, sheeny black with white. A stylish flash of Cadmium yellow blossomed on a standout silken dress.
An ethnic, multicolored patchwork coat was handled with subtlety — while long, soft pleats gently lined some of the most beautiful gowns seen this season. They came in the swingy, waistless, knee-length versions, with volumes swirling as the girls walked. The ultimate version was smothered in raspberry and pink sequins, hands down the Valentino dress of the season.