Valentino Fall 2019 - Runway Review
March

4

,

2019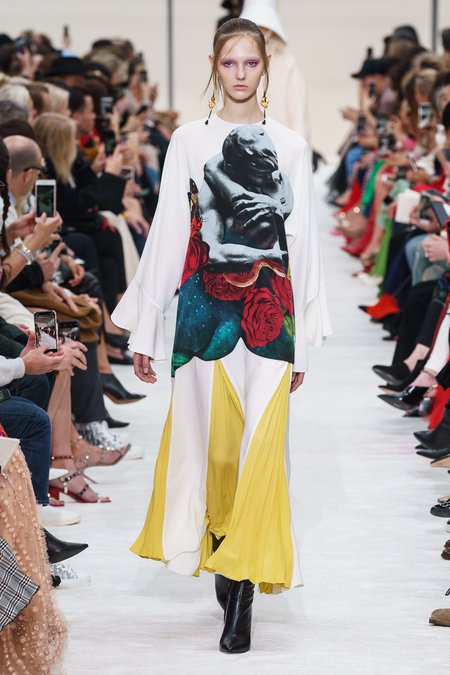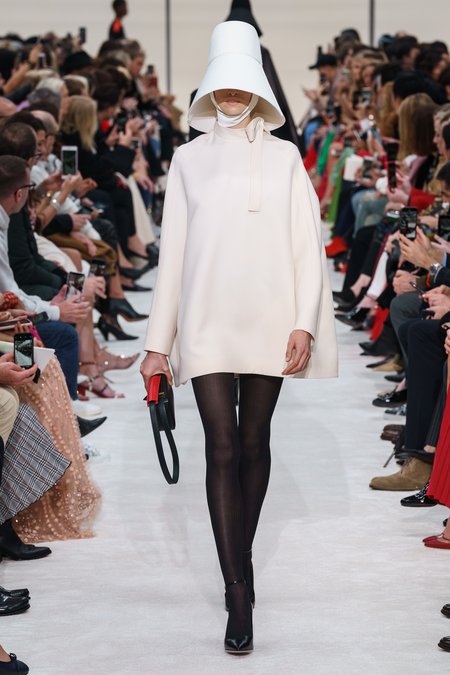 There was a lot to love about Pierpaolo Piccioli's latest Valentino show -- if not figuratively, then literally thanks to a slim volume, "Valentino on Love" that was left on seats for each guest. In it, the Scottish poet, artist Robert Montgomery and three young writers (Greta Bellamacina, Mustafa The Poet and Yrsa Daley-Ward) all contributed verses. An illuminated art piece at the Invalides venue beckoned with lines by Montgomery erected at the end of the runway: "The people you love become ghosts inside of you and like this you keep them alive."
In the collection, the ideology of love was featured in the utmost of subversive ways. One came in the form of kissing lovers and a pop-pinkish image roses that was used as a print over coats and dresses, including a stunning cut-out pink bloom embroidered on white lace. Artistic sensitivity aside, there was a lot to love about Piccioli's collection, the colorful 1970s-style silken gowns with "wilting" neck fringing notwithstanding.
Despite all the flourishes, the collection maintained a modern edge thanks to their silhouettes: the balance of leggy tunics and short coats with jabot collars coupled with iconic red A-line silk dresses accessorized with a silk neck scarf was walking fashion poetry. A deep purple floor length gown boasted fluted panels visible only in movement. Their appeal was cross-generational.