Victoria Beckham Fall 2017 - Runway Review
February

16

,

2017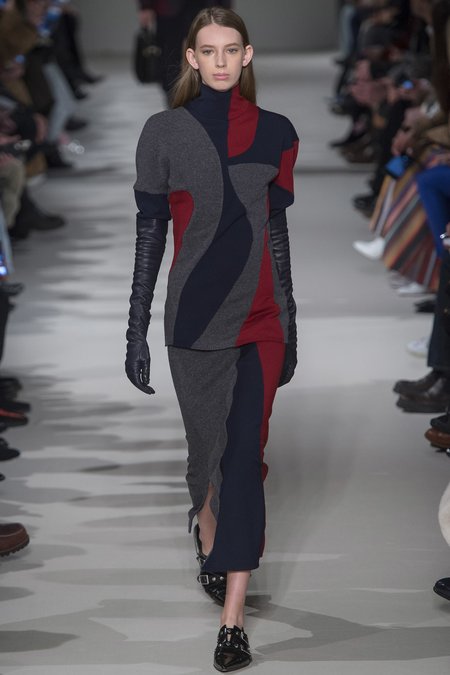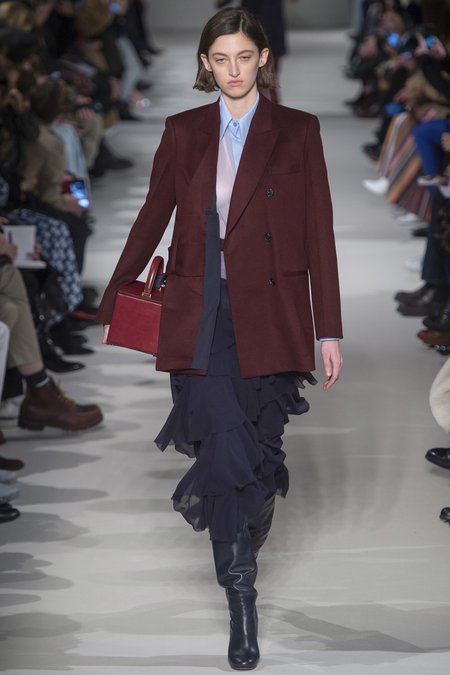 The concept of wearing a blazer with a skirt was something that hadn't ever crossed Victoria Beckham's mind—let alone seen in the scores of paparazzi shots of the designer. So it was with a bit of marvel and fancy that she delivered a seemingly all-weather collection for fall.
Sure enough, there were structured, slightly oversize blazers and ribbed sweater dresses, and pants that were baggy but still flattering (which Beckham wore to take her bow). The color palette included oxblood, navy and black — "gentleman's club colors," Beckham described it — inspired by British artist Paul Nash, whose work at the Tate Museum, she wrote in show notes, "draws on England's past, but translates that into striking contemporary forms."
Long, sheer chiffon skirts and dresses, their lightness complemented by generously oversized jackets, were worn with knee-high leather boots. Most appealing were the long, zipped sweaters that were a blanket for the body. An interesting style touch was the addition of elbow-length leather gloves to many of the outfits.
Beckham also used Nash's creations to inspire her bold prints. To go along with the more muted colors, there was the occasional burst of brightness, like a dress in lipstick red or raspberry turtleback sweater. Her silhouettes were looser than in some previous collections—although juxtaposed elegantly by a series of fabulous structured bags. As she stated: "Body consciousness is traded for consciousness of the body."