Victoria Beckham Spring 2018 - Runway Review
September

10

,

2017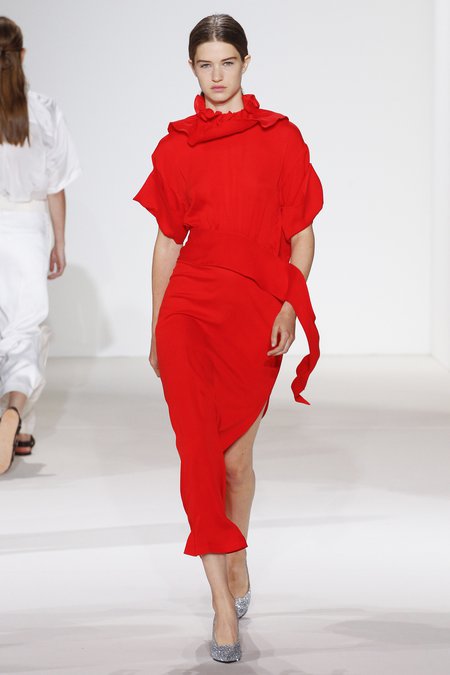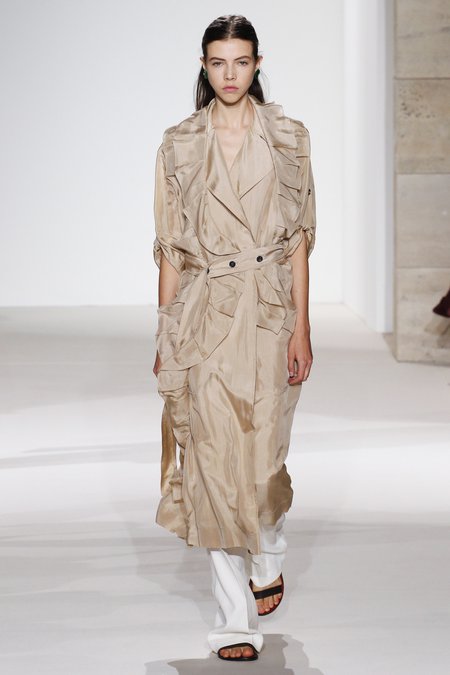 "Delicacy can be strong." With that short but sweet sentiment, Victoria Beckham nailed her spring collection on the head. Femininity is an idea that's taking hold in New York this season, with transparencies and soft hues dominating the runways. Beckham captured both ideas beautifully from look one: a creamy yellow check shirt, cut boxy, tucked into a rose organza pencil skirt. Gone are the hourglass dresses, stilettos and severe tailoring; in their place is a sense of slouch. 
The pajama aesthetic, a recent favorite of Beckham herself, was elevated in matching sets in an elegant floral jacquard. Paired with candy-colored glitter pumps, some of which were embellished a la Dorothy in "The Wizard of Oz," the outfits looked fresh and chic. The slim, tapered pants of her suiting were cut in a feminine slant and shown in a beautiful palette of pastel hues. 
The great use of color (mineral blue, pink, lavender and vivid rid) showcased the silhouettes of the garments beautifully. While the weight of the fabrics reinforced the notion of delicacy, there was also the notion of charm in the crushed ruffles of Pierrot collars and jeweled anklet. Tailoring wasn't completely abandoned, however, with utility shirts rendered in men's checks and wide-legged pants paired with boxy blazers. This may have been one of Beckham's most covered-up collections to date, but they were done with serious seductive aplomb.