Americana Manhasset's Full Dance Card
Long Island, N.Y., center gains worldwide recognition with high concentration of luxury brands. -WWD 2016
December

19

,

2016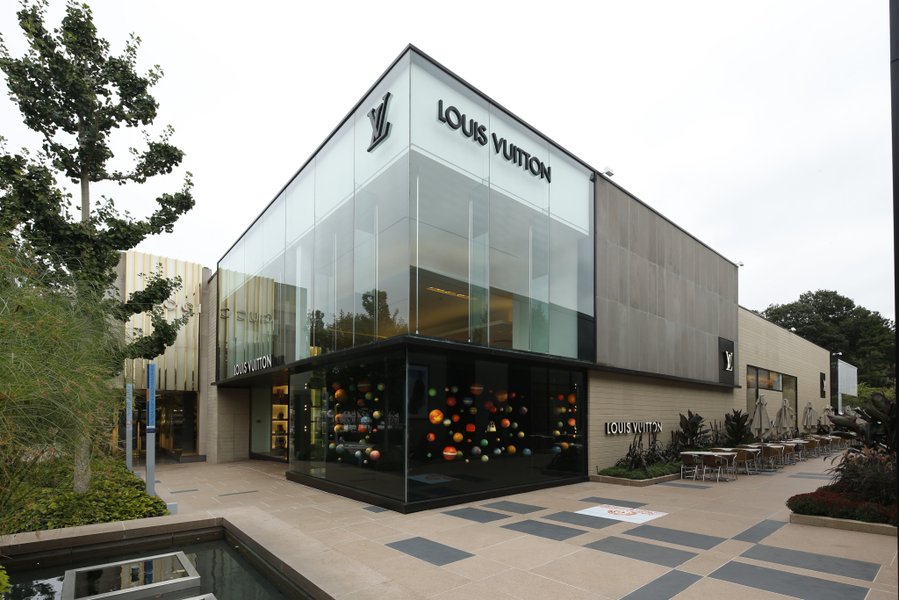 Americana Manhasset is a constant work in progress. The 220,000-square-foot open air center on Long Island, N.Y.'s affluent North Shore recaptures space from retailers that no longer resonate with customers and doles out the square footage to in-demand brands. With sales averaging $1,800 a square foot, the 60-year-old Americana is one of the most productive centers in the country. It continues to conceive of new events and seek ways to improve service, elevate its advertising and upgrade its digital experience.
Americana Manhasset faces increasing competition from regional shopping malls intent on courting high-end consumers. Last year, Neiman Marcus opened it first Long Island store at the Roosevelt Field mall in Garden City, N.Y., and the Americana's owners and tenants were worried over its impact.
"Neiman Marcus at Roosevelt Field has had no measurable effect," Americana's owner Frank Castagna recently claimed.

The Americana dodged a bullet when Taubman Cos., gave up a 19-year battle with residents in Syosset, N.Y.,where it planned to build the Mall at Oyster Bay with anchors Neiman Marcus and Nordstrom. Taubman sold the property to Simon Property Group. Castagna Realty Co. Inc., Americana's parent, is a partner on the revised concept, which now includes residences and a 30-acre park.
"There will be retail, but not anchors and not fashion tenants," Castagna said. "The retail will address the needs of the community."
Castagna has always made the needs of the community one of his priorities.

Americana Manhasset, which claims to be among the first centers to link retail and charity, held its annual fashion show in September, which benefited women's health at Northwell Health. Champions for Charity, its annual holiday shopping event, donates 25 percent of shoppers' pre-tax purchases to participating charities of their choice. Last year was the 20th anniversary of the program, which raised more than $1 million for not-for-profit organizations.

When Castagna bought the strip mall in 1956, its tenants included Dressbarn, Bakers Shoes, Lerner Shops and Waldbaum's supermarket. He had upscale aspirations for the center, which were fully realized many years later.

After Peter Marino designed a Giorgio Armani shop-in-shop for Hirshleifers in 1986, Castagna approached him about creating a master plan for Americana Manhasset.

Marino said he is working on new signage and a new entrance to the center with "beautiful new stainless steel and a shade of red like the one found in Robert Indiana's 'Love' painting. It's clean and crisp and very modern. It's timeless and not trendy."

"It's basically what I saw in his office," Castagna said of Marino. "All that limestone, granite, bronze and stainless steel. His fees are fairly heavy, but he produces the results. We were very fortunate. We're the only retail center he works for."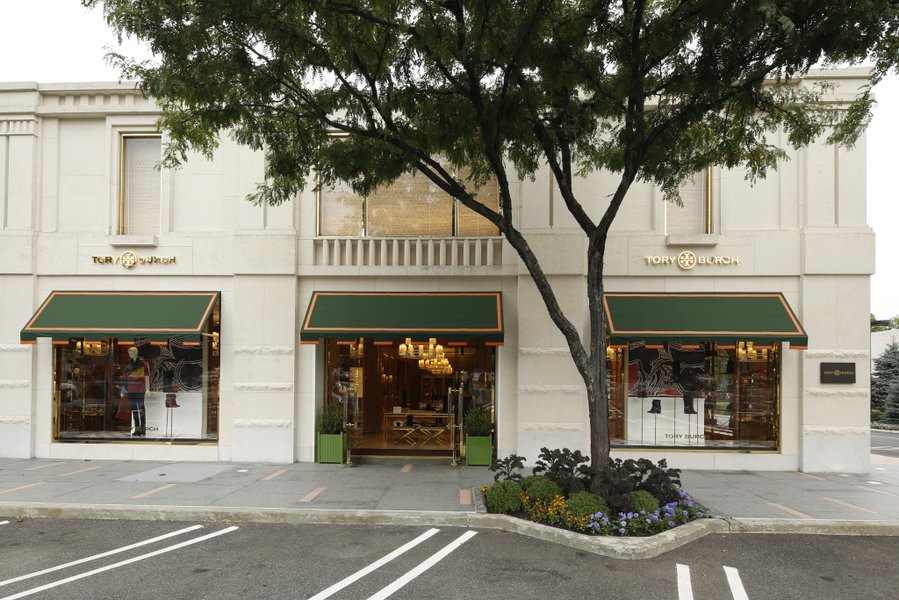 Americana's appeal in part comes from its hybrid nature. "It's an interesting suburban phenomenon," Marino said. "It's the ability to keep one foot in the city with sophisticated shops and one foot in the country with trees and plantings.

"We came up with this term 'a semi-urban shopping center,'" the architect continued."I hated developments that were like Rodeo Drive trying to copy a European street. That's Disneyland to me."

Marino decided to put the "more serious brands such as Chanel, Dior and Bottega Veneta on the north side of the center and the fun, more youthful brands on the south side. There was no sun on the north side, so I said, 'Let's have all the facades with limestone awnings.' Along the south side, there's multicolor awnings and lots of trees."

The architect has placed six major sculptures around the center, including multiple Lalanne sheep, and a Nikki de Saint Phalle.

Recent major expansions include Bottega Veneta, which grew to 4,000 square feet from 1,400; Louis Vuitton, which hopscotched from 1,400 square feet to 5,000 square feet to 7,400 square feet, and Hermès, which was 1,300 and is now 6,200 square feet. Hermès added a Saint-Louis crystal and table wear boutique, one of only three in the U.S.

Gucci is next in line to renovate its store in 2018.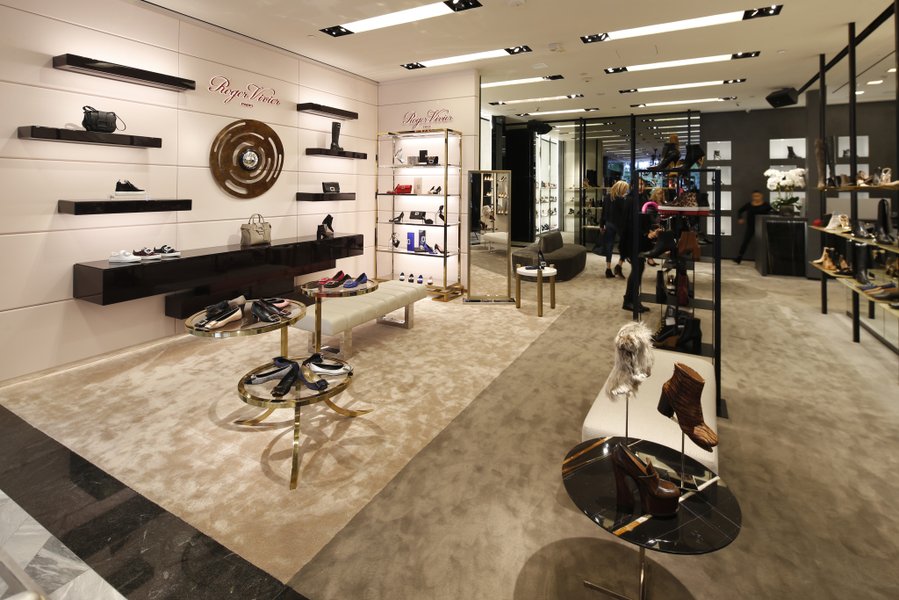 Changes at the 17,600-square-foot Hirshleifers come fast and furious as the retailer capitalizes on nascent trends and launches new concepts. In addition to its substantial Chanel boutique, featuring ready-to-wear and accessories, Hirshleifers recently launched a dedicated space for Céline rtw and accessories and unveiled a Christian Louboutin shop.
MRKT at Hirshleifers has grown its footprint to include forward fashion and accessories for men and women from brands such as Off-White, Vetements and Givenchy. "The area is really cross pollinating between fashion and street culture, which has created a tremendous new energy," said Caryn Hirshleifer.

"We've seen the most dramatic changes in our business in the last five years. We decided to go full-fledged into men's. We had no idea men's was going to become ladies," said David Sills, who runs men's, adding that MRKT's sales have grown by double digits in recent years.
"We've seen the most dramatic changes in our business in the last five years. We decided to go full-fledged into men's. We had no idea men's was going to become ladies," said David Sills, who runs men's, adding that MRKT's sales have grown by double digits in recent years.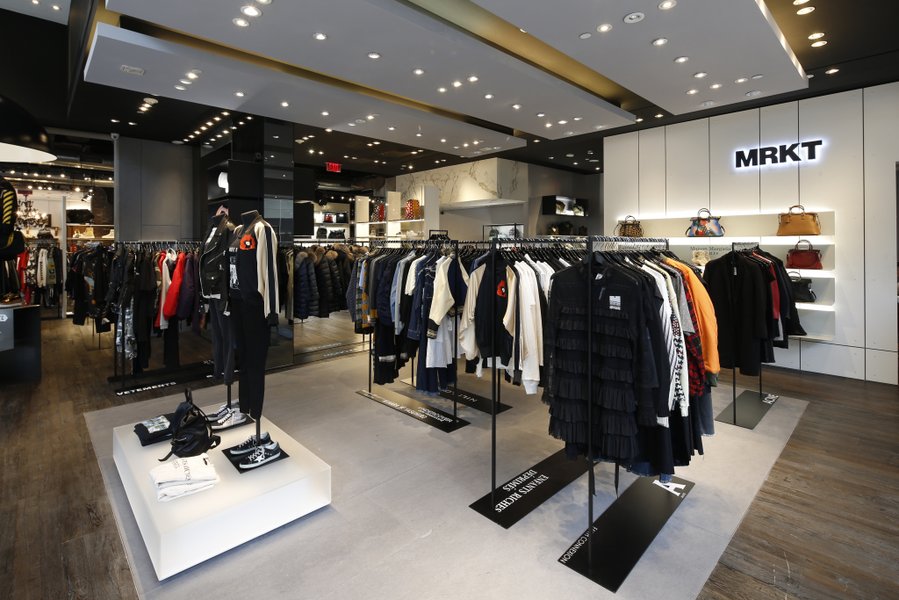 New to Americana are Diane von Furstenberg, Zimmermann, Bandier and Agent Provocateur. Tesla, which represents a new lifestyle category for the Americana, opened its permanent store in the spring.

Urban Zen unveiled an 1,800-square-foot store selling rtw, statement jewelry and handcrafted leather pieces made by artisans in Bali and Haiti. A Ghurka pop-up shop opened between Fendi and Burberry. "We'll see how it does," Castagana said. "We're in talks with all the majors just to stay in touch so we're on their radar. A certain segment of our leases are 15 year leases and they'll be coming due."

Family-owned London Jewelers renovated its 21,300-squarefoot space to create boutiques for Rolex and Patek Philippe. The store sells Panerai, IWC and Omega, among others, and operates an adjacent Cartier unit. London's jewelry boutiques will next go under the knife.

"We have some of the top conversion rates," said Castagna of Americana. "Our stores have upped their service component. We're introduced all-season wardrobing." Americana operates a personal shopping office with a concierge, two seamstresses and four personal shoppers. "They help with the business because they understand the customer," he said, adding that consumers spend about $20 million annually on gift cards.

The makeup of Americana's shoppers has changed over the years. Today, 30 percent of the center's clients are Asian and living in Queens. To cater to their needs, Americana has introduced Asian sales associates.

Americana's advertising has become increasingly sophisticated to keep pace with its retail tenants. Laspata DeCaro started working with the center 14 years ago. "We shot 'A North Shore Story,' a biannual catalogue close to home," said Charles DeCaro. "Since then, we've traveled to Vietnam, Paris, London, Rome, Sicily and Coney Island. The catalogues always have an editorial slant. It's not your typical shopping destination advertising by any means. The books have taken on a life of their own with talent such as Karlie Kloss, Natalie Westling, Lexi Boling and Caroline Trentini. The caliber of talent we use is commensurate with what the Americana stands for. It's a global brand now."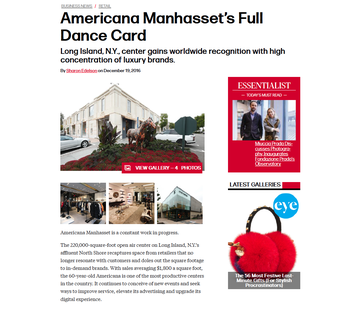 Americana Manhasset's Full Dance Card
Long Island, N.Y., center gains worldwide recognition with high concentration of luxury brands.