The Evolution of Americana Manhasset
The story of Long Island's premier shopping destination
WELCOME
With over 60 fabulous luxury and contemporary shops and a bevy of services, Americana is the ultimate shopping oasis. Louis Vuitton, Prada, Gucci, Dior, Chanel, Hirshleifers, London Jewelers, Hermès, Cartier, Zegna, Tiffany & Co., Theory, Alice & Olivia and more reside one next to another within a unique and exciting outdoor environment designed by renowned architect Peter Marino and landscape designer Oehme van Sweden.
Americana's two world-class restaurants, Cipollini Trattoria and Toku Modern Asian, offer excellent food in sophisticated yet comfortable settings, both perfect for a relaxing lunch or dinner after a day of shopping.
Americana Manhasset also offers a complimentary Personal Shopping Service, a remarkable fashion and gift resource, and a Concierge to assist you with your shopping needs. Looking for the perfect gift? Consider the Americana GiftCard, ideal for personal and business giving and redeemable at all Americana stores and restaurants.
Located only 20 miles from Manhattan and 50 miles from the Hamptons, just off exit 36 of the Long Island Expressway, Americana is conveniently situated on Long Island's beautiful North Shore.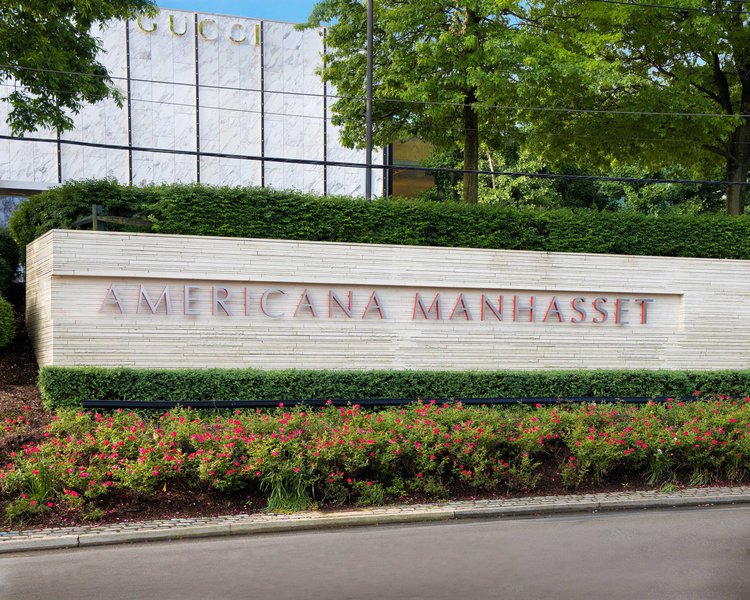 THE EVOLUTION OF AMERICANA MANHASSET
The development of Americana Manhasset began in 1956 when the property was purchased by Gerace & Castagna, Inc., a masonry contracting firm founded in 1922.
The 220,000 square foot open-air shopping center began as a neighborhood strip center. At that time, Americana stores included a supermarket, drugstore, a movie theater, department store and other various small tenants. In 1971, B. Altman became an anchor signaling the beginning of a shift toward fashion and lifestyle.
In the early 1980s, owner Frank Castagna (son of original developer Ferdinand Castagna), acknowledging the affluence of the community, decided to offer Long Islanders boutiques that would rival the likes of Paris, Milan and Manhattan. Renowned architect Peter Marino began a redesign of the center, and it wasn't long before a world-class destination was born under the leadership of Frank and the Castagna Realty team.

The latter half of the nineties saw an influx of designer tenants, including a collection of internationally acclaimed and recognized brands: Prada, Giorgio Armani and Fendi (Italy); Escada (Germany); Hermès, Chanel and Louis Vuitton (France); Burberry (Great Britain); Ralph Lauren and Michael Kors (USA), to name just a few.
In 2003, nine new stores opened, in conjunction with a 40,000 square foot continuation and architectural redesign of the east end of the luxury shopping center. Many of the new boutiques, including Gucci, Bottega Veneta and Dior, began offering their entire global collections. Louis Vuitton, St. John, Coach and Brooks Brothers had outgrown smaller spaces at Americana Manhasset and moved into larger areas in the new section.
In 2006 Americana Manhasset celebrated its 50th Anniversary with a series of exciting events and the opening of an expanded London Jewelers Watch Salon. Over the next few years Americana continued to welcome new stores, including Chanel Fine Jewelry, J.Crew, Hugo Boss, expanded Max Mara and Cartier boutiques, expanded Brunello Cucinelli and Chrome Hearts boutiques at Hirshleifers. London Jewelers added TWO by London to their roster, offering clients the highest quality engagement rings and diamond jewelry, while Americana welcomed Bluemercury, Bandier, Zimmermann, Rag & Bone and Tesla. In addition, Hermès, Bottega Veneta, Louis Vuitton and Tory Burch all underwent significant expansions and renovations.
Since then, Mens Market at Hirshleifers expanded to become MRKT, featuring a multi-brand selection of the most current and avant garde collections for men and women, including Off-White, Vetements and more. Hirshleifers also debuted dedicated Celine, Christian Louboutin and Valentino boutiques, as well as a Kith and Kith Treats shop. In 2017 Americana welcomed Veronica Beard. In 2019, Gucci and Fendi debuted newly renovated boutiques, and Americana added Kiton, Hirshleifers Sneaker & Coffee MRKT, Lafayette 148 and Audemars Piguet to the roster. In 2021 Americana welcomes Versace!
A Collection of 60 Fabulous Shops