Gucci Decor Now Available. Candles, Pillows & More!
April

9

,

2019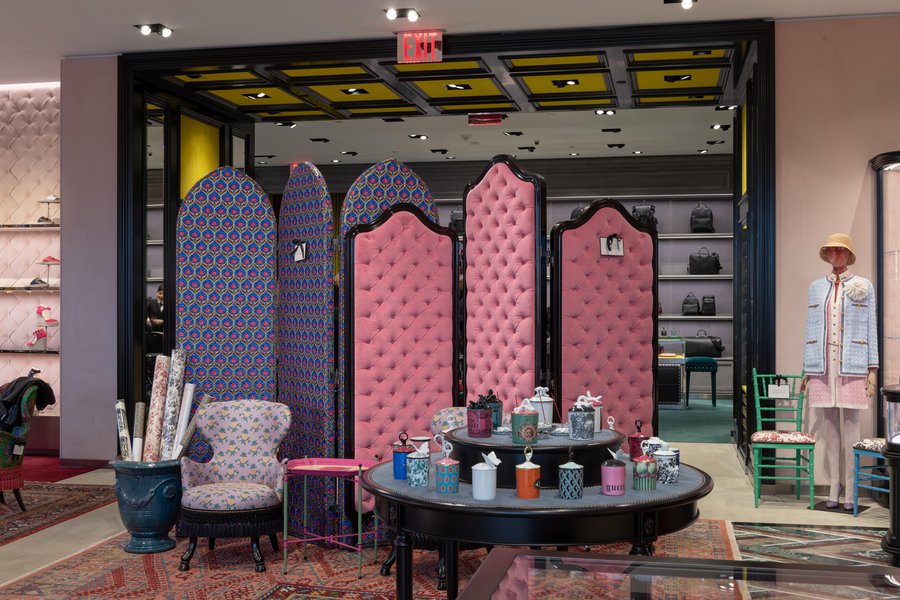 Gucci Décor is now available at Americana Manhasset!
We invite you to our newly-renovated Gucci boutique to discover and shop the eclectic collection of objects and home furnishings that will add the perfect punctuation point to your spaces -- from office to walk-in closet.
Gucci creative director Alessandro Michele's philosophy for personalizing the home is similar to his DIY program for clothes and accessories, where clients are invited to customize pieces by applying decorative details. Likewise, his collection of items for interiors is also intended to allow for a flexible and personal approach to decoration, bringing an accent of Gucci's contemporary romanticism into the home.
As with his magpie attitude to fashion design, the pieces in the new Gucci Décor collection (pillows, chairs and armchairs, trays, screens) display a multitude of design motifs now familiar from Michele's catwalk. All the patterns, colors, designs and decorative tropes have been inspired by his fashion collections and are here reimagined for furniture, furnishings and crockery.
The smaller pieces of the collection are of porcelain and are produced by Richard Ginori, the renowned Florentine company founded in 1735. There are also idiosyncratic Richard Ginori- made porcelain scented-candle holders, which display House patterns. The Herbarium floral print is in evidence here, as are geometric chevrons, a striking, solid pink colour and the 'eye' design. Animals from the Gucci Garden – bees, butterflies and cockerel heads – are rendered in porcelain in 3D and are attached to the pots and their lids. There are also small incense holders where 3D stag beetles and bees support incense sticks.