Hirshleifers Might Be the Best-Kept Secret in Menswear
GQ | By Sam Schube
May

15

,

2019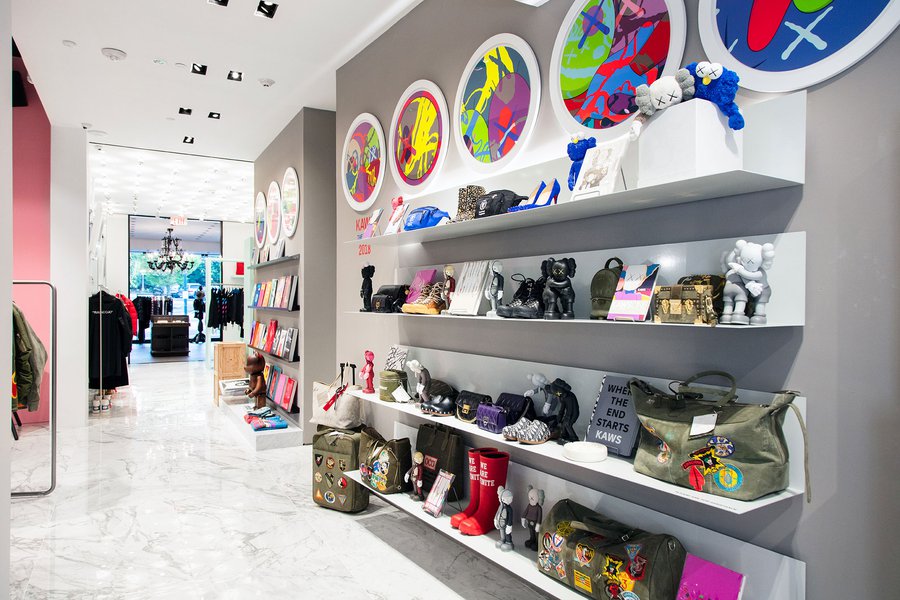 Here's a secret: next time you're looking for some of the wildest, hyped-est, most over-the-top menswear on the entire Eastern seaboard, skip Soho. Skip Midtown. Skip Manhattan entirely! Make like I did and drive out to Hirshleifers, at the Americana Manhasset, which is on Long Island. This is not a drill.
Hirshleifers, co-CEO Caryn Hirshleifer tells me, had always done a serious women's business—serious as in "Chanel employees have visited the Chanel shop-in-shop for research." But the store couldn't quite figure out the hook for its male clientele. So: how in the world did a family-owned boutique on Long Island become a jaw-dropping, candy-coated palace of menswear?
The initial idea, David Sills explains, was to make a man cave. Sills runs the booming men's department at Hirshleifers now, but back in 2010, he was just worried about making male shoppers feel comfortable.
"We thought it would appeal to that guy, but also [be] a place for a client's husband," Sills, dressed in what appears to be entirely black silk, blazer included, explains. Maybe you've been that guy: the one on the couch, noodling on your phone as your partner has all the fun. It sucks being that guy. So Sills got to work.
"That whole kind of heritage, Brooklyn, Old World thing was really starting to start to heat up," he recalls. He stocked up on Red Wing boots, and Save Khaki pants, and kitted the whole thing out to cater to the guy who wanted to shop but was afraid to admit it. "We had instruments. We had incredible vintage drums. It was so cool. We had a bar, and we started serving shots, and we didn't even know what we were onto," he remembers. "I look back at that time—and God knows, the businesses is up 15x over that—but at the time, it was so cool. We opened on Black Friday, and somebody bought everything we had from Best Made—we didn't know how to wrap an axe!"
But then something funny happened. Streetwear started burbling up into the conversation. Instagram exploded. And most curiously, male shoppers started coming into Hirshleifers and asking for higher-end brands: Lanvin, Givenchy, Saint Laurent. So Sills and the rest of the Hirshleifer family—he's married to Lori; sisters Caryn and Shelley complete the fourth generation, and the sisters serve as co-CEOs—started to pivot. The exposed brick gave way to sleek marble. The vintage instruments were replaced with limited-edition Bearbricks, and a couple Damien Hirsts for good measure. The clothes got way fancier: when I visit, racks of Givenchy and Versace dominate the space, flecked with street-leaning stuff like John Elliott and Don C. The whole thing took off, Sills says, like a goddamn rocketship.
"We were trading two items that were $400 to two items that were $4,000 or $9,000. Men's fashion just picked up in a ridiculous way, and our business went, company-wide, from about 1% to 1.5% to 20% of the overall mix. We've seen a meteoric growth."
It's not slowing down: Ronnie Fieg opened an outpost of Kith here. Virgil Abloh drops exclusive gear from a "bedroom" he's set up in Off-White's corner of the store. Hirshleifers, Sills and Caryn tell me in the store's quiet VIP room, will be one of two non-Chanel doors in the country to receive the Chanel's Pharrell collaboration, in case you're looking for embroidered purple hoodies, sunglasses, and furry green bags, all adorned with the phrase "CHANEL PHARRELL."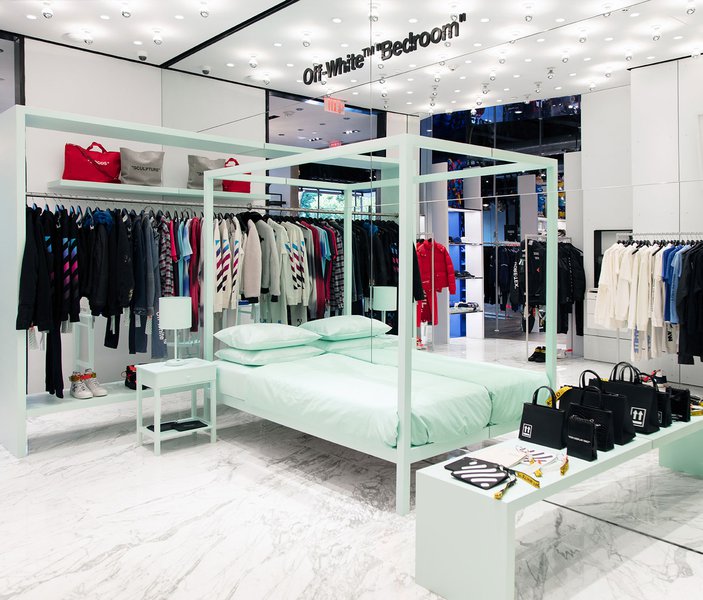 Standing on the astroturf in the store's Celine section—you can still see the mark on the wall where the accent aigu was removed by decree of Hedi Slimane—Caryn Hirshleifer tells the family story.
It starts like many of these do: a recently-emigrated Hirshleifer founded the place in Brooklyn in 1905. He sold furs. Eventually he'd get into ready-to-wear, and pass it onto the next generation. The operation relocated to Forest Hills, and then branched out with a new location in the Americana shopping center in Manhasset, just as well-to-do families were settling down in the area.
Hirshleifers always dabbled in and out of menswear, but the primary business was on the women's side. After a career in law—"When I was growing up, cities were on fire! It was a time of people not talking about Chanel handbags, okay? They were burning their undergarments! And so I was like, 'Oh my God, I was born into the wrong family, I'm waiting for my true parents to come'"—Caryn jumped into the family business; her self-appointed title is Store Cynic and Historian. After taking the helm from their father, she and her fourth-gen sisters supercharged the place; the men's expansion followed shortly thereafter. Which brings us to the present, and to the highest-octane Americana.
And let me tell you: the Americana is a trip. Maybe you've read about Hudson Yards, Manhattan's newest playspace for the .01%? The Americana makes Hudson Yards look like fucking Radioshack. You want fashion? The Americana has fashion: Gucci, Dior, Louis Vuitton, Prada, Hermes. You could hold Fashion Week here. There's a Tiffany's, and a Ralph Lauren. Hell, there's a Tesla dealership if you get bored. For food, you're limited to an Italian joint and a "modern Asian restaurant"—not as many options as Hudson Yards, sure, but who needs a Shake Shack when you've got a private chef? It's a wild place, is what I'm trying to say.
And yet Hirshleifers, even with an LED sign blazing a Gucci ad above the shoe section, gives off—dare I say—a wholesome, family vibe. That's surely due in part to the Hirshleifers themselves: a few fifth-generation family members work there now, too, and nearly everyone we pass has a kind hello for Caryn.
But as I walk the floor, scoping the Chrome Hearts hoodies (dope) and Versace silk shirts (silky), I can't help but think that the vibe of place—so over the top, and yet fairly mellow, attitudinally—can be chalked up to the location. This isn't Soho, or Tribeca, or Midtown, the city screaming outside the front doors. No, it's quiet, genial, wealthy (median household income reported in the 2010 census: just over $130,000) Manhasset, Long Island. I see a big baseball boy wandering around in his Jericho High uniform, presumably after Saturday practice. It's the mall!
The Hirshleifers are home out here—and anyway, they're quick to remind me that "out here" is a distinctly Manhattanite way to think of things. "We act as an extension of the city," Sills says. "We've become such a destination, and as the experience at the department stores, the Barneys and the Bergdorfs, has become not particularly fun for a lot of these clients, [Hirshleifers] definitely has been a huge draw in the Tri-State area."
Things don't appear to be slowing down: they'll open a new space dedicated to sneakers soon. Menswear doesn't appear to be slowing down. And even if things slow to a crawl, well, they can always look to the next generation for a boost, Caryn explains: "My nephew just came into the business about three weeks ago."