What's New at London Jewelers -November 2019
November

9

,

2019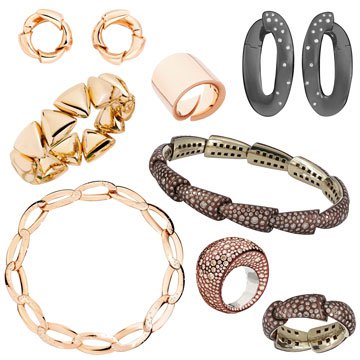 Vhernier
As London Jewelers celebrates all things "Made in Italy" this month, our November spotlight falls on three venerable Italian jewelers. Vhernier, established in 1984 in Valenza as a goldsmith's workshop, began with a passion for gold and gemstones and the beauty that their coupling could create -- at once both contemporary and unconventional. Over the years, numerous creations have become icons: the Calla necklace, the Pirouette ring, the Palloncino brooch and the Vague earrings, just to name a few.
Pomellato
Pomellato, founded by Pino Rabolini in 1967, is a fine jewelry brand that fuses Italian craftsmanship with striking, unconventional designs. Maison Pomellato artisans hand craft the brand's rings, earrings, bracelets and necklaces -- using sustainably-sourced gemstones and expert techniques to produce unparalleled jewelry. Whether the intricate Arabesque line, the playful Capri collection or the streamlined Lucciole set, Pomellato's pavé diamond earrings, colorful pendant necklaces, link bracelets and amethyst cocktail rings don't disappoint. Polished, elegant lines and a heavy dose of color make for a distinct flavor unique to Pomellato.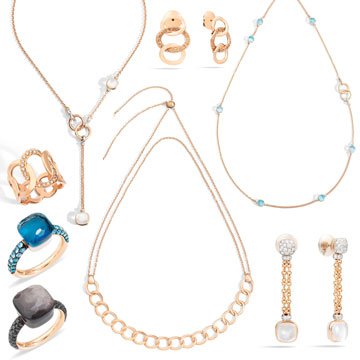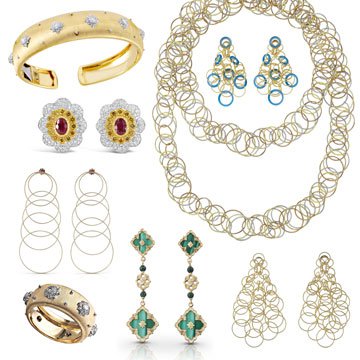 Buccellati
With the help of his extended family, Mario Buccellati, who opened his first boutique in Milan in 1919, built his business into what is one of the world's most prestigious jewelers and watchmakers. The Italian jeweler's designs evoke the spirit of masterful native artists such as Botticelli and Donatello. Buccellati's forte goes beyond its stunning jewelry and timepieces; the design house also offers elegant flatware, vases and other luxe home decor pieces.